Brazil opens wheat market to ensure domestic supply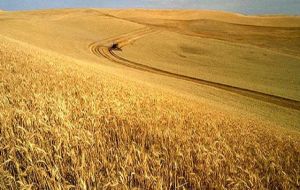 Brazil has decided to temporarily lift the tariff on imported wheat from outside Mercosur trade bloc, following a request made by mills, a spokesperson at Brazil's Foreign Trade Chamber (Camex) said this week.
Wheat from outside Mercosur (Argentina, Uruguay and Paraguay) was charged with a 10% tax to enter the Brazilian market. The reduction, which was published officially Wednesday, is valid through June 30, when Brazilian government officials will likely review the supply situation of the local wheat market. Brazil's government had postponed on January 29 the decision of the tariff cut after Argentina signaled it would reopen its wheat and corn export registries. The Argentine government said an additional two million tons of wheat could be exported. "Brazil has considered that the wheat (to be exported) from Argentina was insufficient. The reason (of the decision) is to prevent supply deficits in the internal market" said a spokesperson for Camex. The suspension of the tariff is valid for one million tons of wheat. Brazilian mills had requested the cut of the tariff after Argentina suspended wheat export permits to safeguard local supplies, in late 2007. They argue in favor of the duty reduction as imports from countries in the Northern Hemisphere are more expensive than those from the neighboring country. Argentina is Brazil's largest wheat supplier, accounting for more than 90% of the Brazilian imports. Wheat futures reached a new record high Wednesday as investors bet that tightening U.S. supplies and poor harvests around the globe will push grain prices higher and worsening food inflation. Wheat prices have trekked relentlessly higher as global supplies have shrunk. Smaller-than-expected harvests around the world, due partly to dry weather, have left stockpiles depleted even as demand continues unabated. U.S. wheat exporters have sold more than 15 million bushels a week in seven of the last 11 weeks, well above the U.S. Department of Agriculture's weekly target of about 1 million bushels a week. Wheat sales have surged past the historic average as buyers scramble to lock down supplies. World wheat inventories are headed for the lowest level in nearly three decades. Dry, hot weather in wheat-growing countries, most recently India, Canada and Argentina, have added to the tightness.