Vazquez launches cabinet reshuffle with October 2009 in mind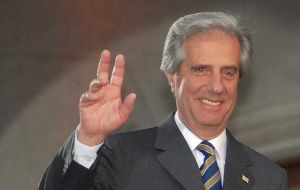 Uruguayan president Tabare Vazquez confirmed Saturday a deep reshuffle of the cabinet which in this first stage includes at least four relevant posts: Foreign Affairs, Defence, Industry and Energy; Education and Culture and Housing and Environment. The announcements are scheduled to be made public in the course of next week.
"Cabinet changes are something natural in the political life of a serious and responsible country" said Tabare Vazquez who added that in the coming weeks he would go on national television to explain to the people the extent of his decisions. Vazquez leads a vast catch-all coalition that extends from former guerrilla groups and radical Communists to Socialists and Christina Democrats. The Progressive Front won the election in October 2004 with no need of a run-off and cracking the bipartisan hegemony of two of the world's oldest historic centre parties that have dominated Uruguayan politics since the foundation of the country in 1830. Foreign Affairs ministry has been offered to Gonzalo Fernandez a distinguished criminal solicitor, the current Secretary of the Executive, a very close aid of President Vazquez and a cabinet "fire fighter". The post remains in the hands of the Socialists, although Fernandez belongs to the progressive wing as opposed to the orthodox, among which outstands the current minister Reinaldo Gargano, contrary to close ties with Washington and a great sponsor of Venezuela's Hugo Chavez. He is also supportive of "rebel" groups round the world such as Spain's ETA, Colombia's FARC and the Polisario in northern Africa. Gargano who is blamed for leading a silent "rebellion" against a free trade agreement with the US is expected to return to the Senate. The current ambassador in Washington Carlos Gianelli is tipped as the next Deputy minister of Foreign Affairs. Fernandez job in the presidency will be filled by one of his closest hands. Defence will be occupied by the current Deputy minister Jorge Bayardi, with a long experience in military affairs and normal contacts with United States. Minister Azucena Berrutti, a lawyer who was Secretary General of the government of Montevideo when Vazquez was mayor (1990/95) is considered a close confident of the president and returns home after three years in the job, as was agreed when she originally accepted. The first woman Defence minister of Uruguay in spite of her frail appearance and squeaky voice was part of a team that sent several former high ranking military officers to court for human rights abuses during the Uruguayan military dictatorship (1973/1984) and drafted a bill, under Congressional consideration, which reviews the whole concept of defense for a small country in modern times. Since 1990 almost half of Uruguay's Army and smaller contingents from the other services have been overseas in peace keeping missions under the United Nations. Socialist Deputy Jorge Menendez from the Defence Committee according to press reports has been offered Bayardi's post. The president of Uruguay's government owned oil corporation Ancap, Socialist Daniel Martinez will move into Industry and Energy while Jorge Lepra, with no political militancy but a close long time friendship with President Vazquez, is expected to be named in some international post. Lepra, Texaco Uruguay former CEO helped the Vazquez administration establish close links with United States (bypassing orthodox Gargano) and given his oil industry background, with Venezuela's PDVSA that has become a strong supplier of crude. No changes are expected in the Deputy Industry and Energy ministry post. Education and Culture is to be occupied by Maria Simon, currently president of Uruguay's government owned telecommunications corporation Antel. She replaces Jorge Brovetto, a former dean of Uruguay's main university who is also interim chairman of the Progressive Front, acting more as a decorative figure since the coalition is fiercely divided as to whom should hold the crucial job come the October 2009 general election. He is said to have serious health problems. No changes are expected in the Deputy ministerial chair. Finally the president of Uruguay's government owned waterworks Carlos Colacce will be moving into Housing and Environment. He replaces a former Montevideo mayor, elected Senator and leader of one of the ruling coalition's junior partners. Mariano Arana, architect and in his seventies has also been touched with a growing corruption scandal involving the municipal casinos during his mandate and is increasingly viewed as a liability for the coalition. Besides, the Botnia pulp mill conflict and environmental consequences of the dispute with Argentina completely surpassed him. He has been promised an embassy or some overseas cultural post. Architect and former Colonel Jaime Igorra is expected to remain as Deputy minister. Regarding two other clue ministries Economy and Agriculture headed by Danilo Astori and Jose Mujica (his political group and him were the most voted in the 2004 election), nothing has been anticipated. However since both are presidential hopeful pre candidates for 2009 they could be stepping down in the near future to begin campaigning. Astori has benefited from the last few years upturn of the world economy and bull market for commodities, and Mujica remains together with President Vazquez the main political asset of the coalition. Political analysts in Montevideo said the reshuffle in several chapters, given the delicate balance among the different groups that must be respected inside the coalition, could last months but are clearly in preparation for the 2009 general election and intended to give a generation of new faces greater exposure. Changes are expected to be accompanied by an aggressive campaign of the government's achievements and electoral promises in the making. Montevideo press reports indicate that the surprise announcements (during a holiday week in Uruguay) did not come without grumbles or feet dragging since some of the ruling coalition groups and potential hopefuls feel they could end loosing with the reshuffle.