Guessing game: how much presidents really make?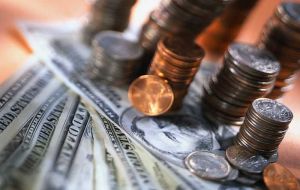 United States president George W. Bush ranks as the highest paid leader in the Americas and Fidel Castro the most modest, according to officially disclosed figures, which are not always entirely reliable, following on a report from the Spanish media.
President Bush figures with 33.000 US dollars monthly and Fidel Castro with 30 US dollars. However the US leader is very limited regarding the utilization of government assets for family related affairs, something relatively common among Latinamerican presidents. Besides, since the seventies, all gifts from other countries or world leaders become the property of the White House and not of its occupant. On the other extreme in the Cuban Marxist oriented regime, with limited incomes and private property, Fidel Castro as the undisputed number one has virtually unlimited use of all government funds and assets. Regarding nominal salaries, Bush is followed by the presidents from Chile and Mexico. Michelle Bachelet makes 13.754 US dollars per month and Felipe Calderón, 13.000 US dollars after having suffered a 10% cut, one of his first measures on taking office. Colombia's Alvaro Uribe riding on a transparency campaign has made public his presidential income every month since taking office, which is the equivalent of 9.334 US dollars. Although Venezuela has no such transparency tradition and there's no official listing of the highest paid officials, in 2006, President Hugo Chavez monthly pay was 8.370 US dollars. Brazil's Luiz Inacio Lula da Silva during his first four year mandate had his salary frozen by Congress but last year received a 29.81% hike which means he is making 6.488 US dollars monthly. Alan García from Peru receives 5.400 US dollars per month after having decreed a 50% cut honoring his electoral promise. Rafael Correa from Ecuador, with no representation expenses, is paid 5.000 US dollars a month and income tax and social security subtract 1.000 US dollars from that figure. Paraguay's Nicanor Duarte is paid 3.385 US dollars, which is made up of 2.385 for his basic salary and 1.044 in representation expenses. In Argentina Cristina Fernandez de Kirchner according to official information makes 1.893 US dollars per month plus 2.365 in expenses. It's the same her husband and former president Nestor Kirchner was paid. Evo Morales in Bolivia on taking office cut his salary by half and officially is paid 1.900 US dollars per month. How much Uruguay's Socialist president is paid is a well kept secret. On taking office in 2005 the official information with all the administration's highest salaries was discreetly erased from the government's site. But at the official exchange rate, adding salary and expenses, Tabare Vazquez is making at least 10.000 US dollars per month based on 2005 numbers. Other presidential salaries: Guatemala, 18.657 US dollars; Costa Rica, 8.500; El Salvador, 5.200; Panama, 7.000; Honduras, 5.200 plus 4.200 for the country's First Lady; Nicaragua, 3.200; Dominican Republic, 1.980 and Puerto Rico's governor, 5.800 US dollars. Nevertheless in many cases lump sums do not detail salary, expenses and other perks, or disclose the reserved contingency funds to which the Executive of different countries have access. Definitively, a guessing game.