Yellow fever: first possible death reported in Argentina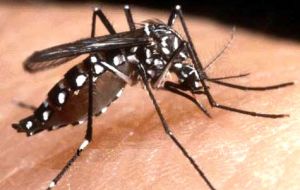 A logger is suspected to be the first fatal case of yellow fever in Argentina since the 2007 outbreak in neighboring Paraguay. The man, 39, together with a crew was logging in the northern province of Misiones and according to local sanitary officials had all the symptoms of the mosquito transmitted viral disease.
Five more loggers are considered "risk" cases and blood samples have been sent to Buenos Aires for testing. They are under surveillance in a Misiones province hospital. The logger suffering from high fever was taken to a clinic in the city of Oberá over the weekend and died Tuesday night of "multi-organ failure with coagulation problems", said the official report. The 16 year old daughter of the deceased has also been hospitalized suffering from high fever, cramps and joint aches. Liver failure and hemorrhaging have not occurred. "The (deceased) case is very serious and could be traced to a late detection of the disease, although we can't talk about yellow fever until we have the blood tests sent back from Buenos Aires", said Misiones province Deputy Health minister Carlos Baez. The deceased was working in the same area as the other only confirmed case of the yellow fever disease, also a logger a 28 year old man who managed to recover because he was treated on time. "We have six suspect cases of yellow fever, four are new and two we announced when the confirmed case", added Baez. Most cases are from an area where in early February a high mortality of monkeys was detected, possibly caused by the yellow fever mosquito. Baez said that the vaccination campaign is now concentrated in San Vicente, "where the cases have been detected and where we have concentrated thirty vaccination teams". Argentine federal health authorities have extended compulsory vaccination to five more provinces bordering with Paraguay and /or Misiones province. In the last nine months there have been 16 proven fatal cases of yellow fever in Paraguay and 17 in Brazil. Meantime the Pan American Health Organization announced that almost 1.3 million people have been vaccinated for yellow fever in Paraguay to stem the first outbreak of the urban form of the disease since 1942. Shots were given to more than 1.27 million people across 18 of the landlocked country's departments, or regions, the Washington-based agency said in a statement. In the capital, Asuncion, 83% of the population has been immunized against the mosquito-borne virus. Paraguay's President Nicanor Duarte declared a state of emergency February 15 in an effort to control the disease in the nation of 6.7 million people. The Ministry of Public Health and Welfare has recorded 21 proven cases and a dozen more suspected cases are being investigated. Yellow fever occurs in two different patterns: jungle yellow fever, which is spread by mosquitoes among monkeys and humans; and urban yellow fever, which is spread by mosquitoes from one infected person to another. Cases of jungle yellow fever have been reported in Brazil and Argentina since November. Only Paraguay has confirmed both disease types. Officials from Paraguay, Brazil, Uruguay, Venezuela, Bolivia and Peru will coordinate and monitor yellow fever immunization for people living in border areas, as well as efforts to eradicate the disease-spreading insects, the Pan American Health Organization said. Urban yellow fever is spread by Aedes aegypti, a mosquito species that prefers to live close to humans rather than in jungles.