"Severe production deficit" forecasted for soybean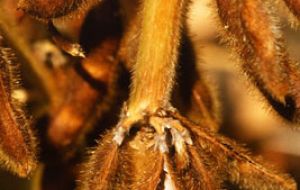 Global 2007-08 soybean harvests will total 221.33 million tons, below forecast consumption of 239.49 million tons, Hamburg-based oilseeds analysts Oil World estimates. This compares to 2006/07 output of 237.79 million tons and consumption of 225.34 million tons.
"The world supply and demand fundamentals for 2007-08 still point to a severe production deficit," it said. This was despite improved production estimates in recent weeks for key producers Brazil, Argentina and India. "A correspondingly huge reduction of stocks by around 18 million tons will be necessary during Sept-Aug 2007-08," it said. It now estimates 2007/08 global season ending stocks at 54.51 million tons, down from 72.67 million tons at the end of 2006/07. The Argentine government's decision to raise export taxes on soybeans and soy products to promote output of wheat and corn could have a major impact on world markets, it said. "It is likely that a further expansion of Argentine soybean plantings will be more moderate than expected," it said. "These developments are likely to have a bullish impact on world market prices of soybeans, soy-oil and meal in the medium to longer term. Argentina is by far the largest supplier and in calendar year 2007 accounted for 59% of world soy-oil and 49% of world soy-meal exports." In related news, Oil World said that high vegetable oil prices have substantially cut their use for biofuels, especially in Europe. Soy-oil and palm oil hit new price records early in March although they have since fallen slightly on profit-taking. "At these prices palm oil is no longer used for electricity production in Europe, equivalent to a loss of 600,000 to 800,000 tons on an annual basis," it said. "Bio-diesel consumption outside the mandates (compulsory blending levels) has faltered and in most countries is virtually no longer existent." "We estimate that the recent high prices have rationed approximately 3.0 to 4.0 million tons of vegetable oil consumption for biofuels." Some of the largest production cuts have occurred in Germany, one of the world's largest bio-diesel producers. It estimates German bio-diesel consumption has fallen by about 1.4 million tons on an annual basis while demand for about 800,000 tons of additional untreated rapeseed oil also used as vehicle fuel has also been cut. Meanwhile, high prices have in addition cut global demand for vegetable oils as food by an annual rate of 500,000 to one million tons, Oil World said. But despite falling demand from both sectors Oil World does not expect falling prices. "We do not see much additional downward potential in oilseed and vegetable oil prices at current levels, particularly as long as there is considerable concern about global supplies in 2007-08" it said. "Also the weak US dollar and the record crude mineral oil prices are support to vegetable oils, oilseeds and meals."