Paraguayan leaders to demand new energy deal with Brazil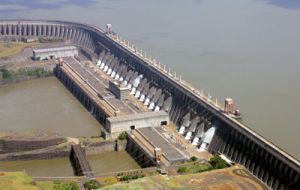 The three major candidates for Paraguay's presidential election next April 20 have agreed on one thing this week: Brazil must pay more for energy from the Itaipú dam on a river border between the two nations.
Paraguay receives 400 million US dollars annually from Brazil for the excess power generated at the Itaipu dam, but all candidates have agreed that "a better deal" must be extracted from Brazil. Itaipú is South America's largest hydroelectric dam. "Paraguay should get more benefits from Itaipu, and when I become president, I will lead the renegotiation of the contract" promised Fernando Lugo, a former Roman Catholic bishop who is leading in the opinion polls. "We don't want to break any contracts; we just want the profits that Paraguay deserves". Blanca Ovelar of the ruling Colorado party agreed, saying that "no one can deny that the Itaipu dam contract needs to be renegotiated." She promised to "take the diplomatic path to reach a more fair deal". Even opposition candidate Lino Cesar Oviedo who had originally opposed any changes to the contract, this week was forced to say he would seek better terms. He did not give details. Under a 50-year deal signed in 1974, the Itaipu dam has 20 energy-generating turbines split evenly between the two countries. Paraguay consumes energy from just one turbine, and sells power from the remaining nine to its much bigger neighbor.