Falkland Islands restore Argentine tank after 26 years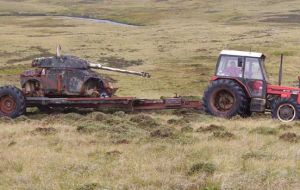 An Argentine Panhard armored car which escaped damage despite the fact it took part in the 1982 Falkland Islands war and spent the following 25 years on a training range has been rescued and brought to Stanley to be renovated.
The Panhard AML-90 armored car is a French design, armed with a 90mm gun which fires fin-stabilized hollow-charged ammunition to a range of 2,400 meters. It also has a coaxial mounted machine gun. There was never a shot fired in anger from the Panhards as far as Karl Harris (32), the man who plans to restore the vehicle, is aware: "They were paraded on the streets of Stanley as a show of power, but were parked up on the hills when their fire power could have been useful". After the war most of the Panhards were flown up to the ranges for target practice, while some were returned to the UK with the Blues and Royals. This particular one was dropped about half way up the south side of Rabbit Mountain. "There's heaps of military hardware up there," enthused vehicle restorer Karl. "Luckily this Panhard has never been damaged in any way, probably because it was in the old Phantom range and they just didn't know were to look for it." Karl said he first discovered the armored car in March 2002 while walking the ranges with friends. In February this year he asked landowner Terence McPhee if he could have it and was told to help himself, if he could get it off the mountain. A plan was hatched, said Karl: "I phoned some friends and they thought it was a good idea. We needed an animal powerful enough to do the job, but light enough to handle the notorious swamps of the Wickham Heights." Jan Clarke knew the area better than anyone and had a tractor and trailer suitable for the first part of the retrieval and Karl and Lee Clement decided to take their Unimogs. Fellow vehicle enthusiasts John Jaffray and Hank McLeod were on hand in John's 110 Land Rover. Accompanied by Wayne Clasen and Steven Floyd, the determined group set off for Dougherty's Shanty on Good Friday with vehicles packed with the necessary chains, de-bogging plates and, of course, beer. Five boggings later (7pm in real time) they arrived at the shanty and settled in for the night. Jan had them all awake again just after 4.00am and they were heading for the mountain by 4.30am. "I'm glad it was dark because it felt like Jan was taking us up sheer cliffs," said Karl, adding, "He's a bloody lunatic." Putting the Panhard on the trailer was fairly straight forward, using a combination of plates, a winch and Jan's trailer, and they were on the return trip by 8am. Eighteen miles later, at Bombilla, the trailers were backed together and the tank winched from one to the other. Lee's Unimog took over as workhorse at this stage and towed the trailer and Panhard all the way to town. "Without the help of good friends and the permission of land owners it would have been impossible. "We covered 240 kilometers from the time we left till we were back," said Karl who now plans to restore the Panhard to as close to its original condition as possible. One of the vehicles involved in the abandoned Panhard rescue expedition was Karl Harris Unimog. Left behind by the Argentine Army it was only recently restored to its former glory. The German built truck was once a pitiful sight, after having spent a decade being used for carting peat and other tasks. Vernon Steen and Mike Luxton rescued it from Moody Brook after hostilities ceased in 1982, Karl explained. "It was badly damaged and parked next to a Huey helicopter." Vernon and Mike fitted a replacement cab and used it for the next 10 years or so for carting peat. When Karl got hold of the truck it was in a poor state so he stripped it back to the chassis and built it back up again. "It wasn't easy but it never is when it comes to restoring 27 year old vehicles". The most difficult part was the cab, he said: "I had to make one good one out of two but it came right in the end." He added: "It has clocked 30,240 km to date - 1,620 engine hours - which isn't bad for its age". (PN).