Argentine farmers resume protest; block grain exports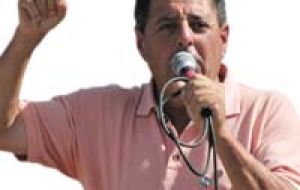 Argentine farmers are back on the road protesting following the government's decision to cancel Monday's scheduled meeting to discuss sliding export levies on oil seeds and grains. President Cristina Fernandez de Kirchner's administration alleged that farmers' leaders had been particularly offensive during the massive rally held on Sunday in Rosario and which convened over 300.000 people.
The liaison committee of the four organizations made public in Buenos Aires an Action Plan which begins Wednesday with a ban on export cereal and oil seed trade, followed on Thursday with a similar decision regarding livestock that will extend until next Tuesday. Next week farmers will meet with city mayors, provincial governors and elected representatives and members of Congress to talk about camp's demands and new policies for the sector. They are also appealing to members of the other branches of government and the Catholic Church to help get the discussions going again. Government spoke-persons accused the farmers of describing the Kirchner couple as the "only obstacle" to reach an agreement which means "they want them removed from office", besides the fact that farmers forget "they are one of many sectors and the government does not discuss in equal terms with sector lobbies". The Kirchner administration was also furious when a farm leader on Sunday said the Kirchner couple was not "Evita and Peron". The allegation was in reply to claims the camp was playing the role of a political group that in the forties conspired to have Mr. and Mrs. Peron ousted. "We are not Democratic Action, nor are the Kirchners, Evita and Peron". In their release the farmers organizations recall that the Kirchner administration has consistently launched a misinformation campaign against the camp calling them "coup mongers, greedy, dishonest, making them responsible for inflation, shortages, oligarchs, tax evaders, incendiary, etc" with the purpose of manipulating public opinion and trying to divide and confront Argentines. The release also calls on all farmers not to interrupt normal traffic, letting all people and vehicles through with the exception of trucks transporting grain, oil seed and livestock. A copy of the release was also addressed to the presidents of the federal Lower House and Senate, Ombudsman, president of the Supreme Court and Argentina's cardinal Jorge Bergoglio requesting them to intercede before the government for the resumption of discussions as was originally planned. Meanwhile Alfredo De Angelis one of the most vocal farm leaders who has become a media icon, said that if "I offended the President, I apologize. I only wanted to say the truth. But please let's sit down and talk and solve the country's problems".