Farmers' conflict shadows "inflation and poverty"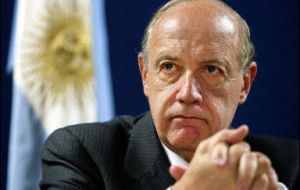 Argentine former Economy minister Roberto Lavagna said that the current conflict of the government with the farmers helps to over shadow other critical issues for Argentine consumers such as inflation.
"Government must reach an understanding with farmers as soon as possible", said Lavagna adding that decisions must be taken "unilaterally or in a round of negotiations", but there's no more time to be lost. Lavagna who is considered the architect of Argentina's recovery from the 2001/02 melting of the economy and default, said that the agreement with farmers must necessarily include "provincial governments, because that is the way out, they have the necessary influence to help" solve the problem. And this is urgent because the camp dispute is "overshadowing fundamental issues such as inflation, poverty, which is on the increase, and a very significant slowdown in the creation of jobs", underlined Lavagna. The former minister also warned that "inflation expectations are above 25%" and this he warned "is showing a strong stall in employment" "The government is doing absolutely nothing regarding inflation", he emphasized. "This administration lacks a context of fiscal, monetary, investment and competition policies which are needed to combat successfully inflation".