World's richest man confident in Latinamerica's future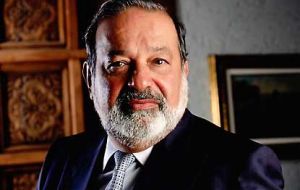 Carlos Slim, president of Telmex, Mexico's telecommunications giant said he was confident in the current and future growth of Latinamerica during his participation in a forum in Mexico City to celebrate the country's fiftieth anniversary of the Economics Circle.

Mr. Slim who is also considered a distinguished member of the world's wealthiest short list said that Latinamerica has overcome the foreign debt problem of the eighties and several countries of the region "are doing the right things with very positive expectations". "Latinamerica's GDP is greater than China and India together, the region has all kind of resources, abundant commodities and the industrial base of countries such as Brazil and Mexico can manufacture virtually any type of goods", added Slim. However he pointed out that one of the major risks threatening the region is "speculation with commodities, beginning with oil, but also with food" adding that "with only a down payment of 5% huge sums have been invested in the commodities futures markets and this is down right speculation". Slim said that Latinamerica should concentrate on infrastructure and the opportunities this entails, "in our countries all is waiting to be done, and we have the resources and the financing. If there's money long term, it's most attractive to invest in the region. And we can grow far more than we are doing so currently". The president of the Telmex Foundation admitted he's an admirer of Spain and what has happened in that country in the last 25 years. "I have great admiration for what was done by Felipe González, then Jose María Aznar and now Jose Luis Rodriguez Zapatero" he pointed out. Although, he said jokingly, "I believe this has been so because the king (Juan Carlos) has been sniffing around all the time".