Argentine farmers protest moves to town squares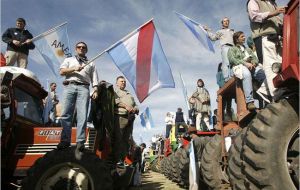 Argentine farmers begin Monday a new chapter of their 84 day conflict with the government over agriculture and taxing policies: beginning at ten in the morning they have invited workers, businessmen, professionals, students and anybody who supports their claims to strike until mid day.
At mid night Sunday the ban on all grain, oilseed and livestock trading was lifted as supposedly all the road blocks which have spread to the whole country and were impeding the traffic of lorries with those commodities and international transport.. The Monday strike is expected to have a strong support in those provinces and towns which are closely linked to farming and agriculture activities, although not necessarily in the big urban centers. Several important provinces such as Cordoba, Santa Fe and Entre Rios will most certainly support the call. Furthermore their governors and former governors are increasingly disappointed with the ruling Justicialista party now under the chair of former president Nestor Kirchner, who seems to be leading the dispute from the government side and apparently has opted for a no dialogue policy hoping to break the striking will of farmers or betting on a split among the four organizations behind the protests. Grass root farmers' groups are also furious (maybe provoked?) by the arrest of eight of them charged for interrupting highway traffic, which has only helped to further tense the conflict. Following Monday's two hour stoppage farmers have plans to organize tent camps in the squares of the main cities and towns to put pressure on local elected officials to stand up for their claims and bring pressure on Congress to revert the sliding export taxing system. Meanwhile President Cristina Fernandez de Kirchner set off for Rome to participate in a UN sponsored conference on world hunger confirming Argentine political analysts' view that the conflict has been left entirely to the hands of the unflinching former president Mr. Kirchner who has promised to his aides "the camp will come begging for a truce on their knees". But inside the ruling Justicialista party and in spite of Mr. Kirchner's tight fist hold and political acumen, two currents are on the making the "Venezuelan Justicialistas" (following on the authoritarian model of president Hugo Chavez) and the "consensual Justicialistas" who feel its time to reach an agreement with farmers as public opinion is demanding and to ensure the political future of those leaders belonging to agriculture dependent provinces.