US unemployment rate picks up speed: 5.5% in May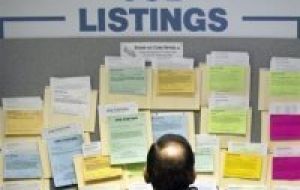 The United States unemployment rate rose at its fastest pace in more than two decades in May, stoking fears of recession in the world's biggest economy. The surprise jump in May's jobless rate to 5.5% from 5% is the most recent signal yet that US growth is stalling.
The rate shows US companies are more reluctant to hire as profits are squeezed by a consumer slowdown and soaring oil and raw material costs. The US Labor Department Friday release said the economy lost 49.000 non-farm jobs. This follows a 28.000 decline in April, and will fuel fears the US economy is sliding towards recession, analysts said. The worry is that a weak labour market will see consumers rein in their spending, hurting corporate profits. The poor data rattled the stock market, with the Dow Jones index sliding 1.79%, or 225.70 points, to 12378.75 in afternoon trade in New York. In recent months, the US Federal Reserve has been slashing interest rates in an attempt to stoke growth. But analysts believe the rising cost of living, rather than interest rates, should be the US central bank's chief concern now. Consumer spending is the engine of the US economy, and the latest jobless data is another set-back for US citizens who are struggling with falling house prices, a credit squeeze and rising fuel bills. Analysts had expected between 30,000 and 58,000 jobs to go.