IMF: current situation testing Latam achievements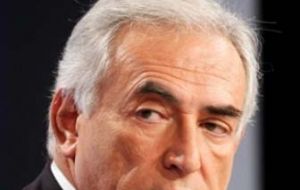 IMF chief Dominique Strauss-Kahn warned on Monday of the rising threat of inflation in Latin America, urging policymakers to take steps to contain the shock to prices from energy and food.
"The task for policymakers is to ensure that the initial impact of the supply shock on prices is contained and that macroeconomic policies successfully prevent higher inflation from becoming entrenched in expectations and wage demands" he said in the prepared text of a speech in Montreal. Governments in the region are divided between keeping accounts balanced and at the same time stimulating economic growth and the IMF duty is to help them. "These are the two challenges for Central bankers" said Strauss-Kahn who is expected in Mexico for a regional summit of bankers and Economy and Finance ministers. "In the short term the challenge for Latinamerica is inflation. The region built credibility in the last decade and that credibility is now being tested". But not to leave behind all that was achieved, Latinamerican governments must adopt measures directed "to lessen the effect of the price hikes for the most vulnerable sectors, but with no steep readjustment of salaries" to avoid inflation from spiraling added the IMF Director General. "Currently we're not seeing secondary effects". The second challenge is maintaining and increasing regional productivity, an area where Latinamerica has a poor standing compared to the emerging competitors in Asia. Furthermore Strauss-Kahn admitted that growth in the last few years has not been enough to combat inequalities and warned that it will be even more difficult to achieve it under slowing down conditions, which could have "social conflicts". He also insisted inflationary pressures are not short lived. Strauss-Kahn said that the world will find ways to increase food production and better manage prices in a reasonable term of time, possibly beginning in six months, but not the same can be said of oil markets. "We must prepare for a long period of high energy prices", he underlined. "Finding and extracting oil takes far more time". More specifically about Mexico the host country and a strong exporter of oil, the IMF chief said the country must increase oil production and export capacity. He revealed that IMF staff has been in contact with Congress members who are considering reforms for the country's energy sector, which is almost entirely under government control. As to the overall picture, he said that growth in the first half of 2008 was better than expected but cautioned that strong recovery can only be expected in the second half of next year.