Bolivia: Opposition gains 7 of 9 provinces in regional vote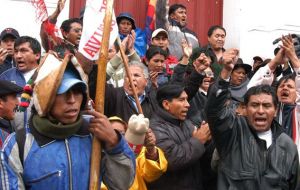 An indigenous opposition candidate was elected governor of Bolivia's Chuquisaca province on Sunday, exit polls showed, in the latest blow to the government of leftist President Evo Morales.

Savina Cuellar, part of a growing autonomy movement seeking to decrease the power of the central government, obtained between 55 and 56% of the vote, private television networks ATB and Unitel said, citing exit polls. Chuquisaca is home to Sucre, Bolivia's constitutional capital, where 70% of votes went to Cuellar, they said. Cuellar's victory adds political weight to an autonomy movement that began in Santa Cruz, Bolivia's richest province, which voted for autonomy in May. Three other departments, or provinces, have also voted for more independence from the central government. Energy-rich Tarija province, the smallest of Bolivia's nine provinces but home to more than 80% of its vast natural gas reserves, voted overwhelmingly for autonomy last week. "Today's message is that if the opposition unites it can be victorious," political analyst Gonzalo Mendieta told ATB. In response, Morales called a nationwide recall vote for next August 10. He and all nine regional governors could be voted out of office in that contest. Morales hopes victory in the recall ballot will give him the upper hand over his opposition pro-autonomy rivals, but momentum has tilted against him with each provincial autonomy vote Cuellar's victory, a former ally of Morales, puts seven of Bolivia's nine departments in the hands of opposition governors. She said one of her first tasks as governor of Chuquisaca would be to organize an autonomy referendum. Chuquisaca turned away from Morales when he did not deliver the promise to make Sucre effectively the political capital of Bolivia. However in spite of the overall result, President Morales and his MAS party are still strong in Chuquisaca. The candidate Walter Valda managed 40% of the vote, and although he received a severe blow in Sucre the capital, 25% to Cuellar's 70%, in rural areas he led comfortably 68% to 27%.