Southern Chile's Chaiten Volcano still erupting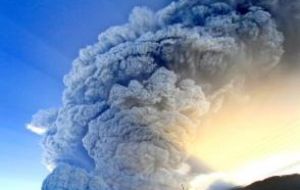 Southern Chile's Chaiten Volcano, which erupted in early May for the first time in recorded history, is once again making its presence felt.
Local news agencies reported that the now two-month-long, on and off again eruption has intensified significantly in the past 24 hours with the volcano once again began belching massive amounts of ash. The new eruption has also been accompanied by notable seismic activity. Chaiten first came to life on May 2, emitting a massive cloud of ash that blanketed surrounding areas and forced the total evacuation of a nearby town of the same name. Chaiten the town, in fact, has suffered devastation of biblical proportions, damaged first by the falling ash and later by widespread flooding. Authorities recently allowed a few residents to return to Chaiten in order to begin cleanup efforts. The volcano's increased activity, however, may lead to yet another evacuation. According to the U.S. Air Force Weather Agency, a plume from Chaiten traveled approximately 130 nautical miles (240 kilometers) toward the northwest before changing direction and heading north-northeast on July 19. This image shows the volcano's plume blowing away from the volcano toward the northwest. Immediately southwest of the volcano, a slight discoloration of the ocean water suggests the presence of waterborne volcanic ash. Skies are relatively clear over the snowcapped mountains. Quiet for more than 9,000 years before its May 2008 eruption, Chaiten is a caldera volcano. This type of volcano forms when the magma chamber completely empties during an eruption, causing the summit to collapse and create a circular depression. Chile is one of the most volcanic countries on Earth, with more than 100 active volcanoes. Experts have said about 20 are in danger of erupting at any time.