Ecuador insists on deal to slash import tariffs on bananas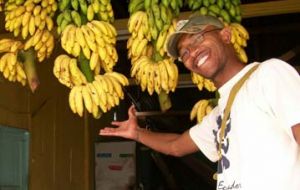 Ecuador, the world's top banana exporter, said it will insist that the European Union stick to a deal to slash import tariffs on bananas despite the collapse of world trade talks on Tuesday in Geneva.
Deputy Trade Minister Eduardo Egas said that Ecuador rejects an EU decision to call off the deal because of the failure of wider trade talks, and would continue legal action against the bloc if there was no agreement to end the long-standing dispute A deal to settle a historic row over trade in bananas between Latin American exporters and the European Union had been agreed on Sunday in the framework of the broader World Trade Organisation Doha round negotiations. "This was always linked to Doha," said Peter Power, a spokesman for EU Trade Commissioner Peter Mandelson, referring to the WTO's global trade negotiations. "This was not a stand-alone agreement and was going to be part of Doha package, so there is no banana deal as of now," Power said. It was not immediately clear what the next steps for the WTO global trade round would be. It risks possibly years of delay as the United States changes administration and the European Commission comes to the end of its term in 2009. Hoping to clear the way for a Doha breakthrough, the EU's executive commission agreed on Sunday to lower its import duties for bananas from Latin American countries including Ecuador, the world's biggest exporter of the fruit, and Costa Rica. The deal angered rival exporters in former European colonies in the African, Caribbean and Pacific (ACP) group of countries whose bananas enter the EU with no duties as part of their long-standing trade perks with the bloc. Bananas are an export product of vital importance to the developing economies of many ACP and Latin American countries, with the latter claiming about 80% of the EU market. Latin American producers and the United States, acting on behalf of US fruit distributors, have won nearly a dozen legal challenges to the EU banana import regime. Under the now defunct deal, the EU agreed to cut its tariff on bananas of 176 Euros a ton to 114 Euros by 2016.