Aerolineas and Austral rated among worst air carriers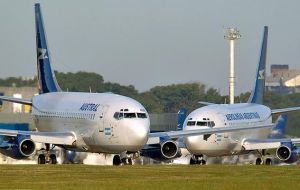 Aerolíneas Argentinas and Austral have been rated among the worst air carriers out of a total of 90 in five continents according to the Argentine Tourism Law Association, Aadetur, which ranks them 81 and 82.
Only eight companies have an even more disappointing performance than the two Argentine air carriers and they belong to Bangladesh, Ethiopia, Libya and Algeria. Another regional company with a dismal record is Air Comet (84) which also happens to belong to the Spanish Marsans, who until recently held a majority stake in the two Argentine companies, Aerolineas Argentinas and Austral currently in the process of being absorbed by the Argentine government. The performance of both Argentine airlines was even worse last year when they ranked 86 and 87, according to Aadetur. "Yes, both companies improved a bit, but they are still miles away from an even acceptable performance", said Diego Benitez, head of Aadetur talking to the local media in Buenos Aires. In the first half of this year only 55% of Aerolineas flights kept to schedule, and Austral 53%.