Brazilian group reopens Fray Bentos corned beef plant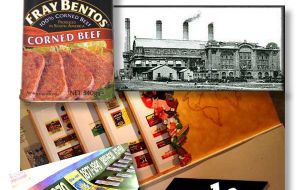 The Brazilian group Mafrig has announced that it will begin production of cooked beef for the British market at the old Anglo abattoir in Uruguay, which for decades was the leading beef exporter to the United Kingdom.
The Fray Bentos plant, where the brand name Fray Bentos corned beef was born and was staple food for British homes during most of the twentieth century, has been refurbished and is expected to begin full production in the coming weeks. Actually the city of Fray Bentos with excellent port facilities and next to some of the best Uruguayan cattle grazing land developed and expanded on the back of the beef industry until the seventies when the British sold the Anglo plant to the Uruguayan government meat board. "We've already begun contracting personnel and cattle should begin arriving in the next few weeks", said Julio Bonizzi, manager of the Anglo plant. He added that the first shipments of cooked beef are destined to the UK in ten pound packs. "Later we will target the US market". "With so many problems and issues to solve, the re-opining of the corned beef plant is great news for Fray Bentos, a brand world known which again will be in the market", said the mayor of Fray Bentos Omar Lafluf. The Magrif group has become the fourth largest producer of beef and beef products of the world with nineteen modern abattoirs in Mercosur member countries: nine in six Brazilian states; four in Uruguay; five in Argentina and one in Chile. Marfrig earlier this year announced it would buy assets in Brazil and Europe from US group OSI for an initial 680 million US dollars plus a possible further 220 million depending on future performance of the European operations.