Falkland Islands: Weekly Penguin News Update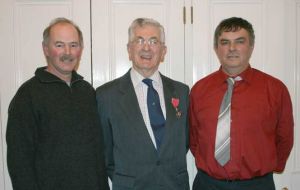 Headlines: Robin returns to receive honour; Saints to learn from our mistakes?; Remains identified; Inside: New staff at FICS; Uni students boost aquaculture project; Dictionary of Falklands Biography; Penguin News goes winch training.
Robin returns to receive honourAWARDED an MBE in the annual Queen's Birthday Honours List Robin Woods opted to return to the Falklands to receive his medal at a special reception at Government House on Wednesday evening. His Excellency the Governor Alan Huckle said it was always an honour to ask someone in confidence if they would be prepared to accept an award, but it was increased when they said they would like to receive the award in the Falklands rather than at Buckingham Palace in the presence of members of the Royal family. "It shows Robin's commitment to the Falkland Islands and his love of the place and of the people that he has chosen to be decorated here at Government House and it is a privilege for all of us that he has done so." Robin has a long association with the Islands, first visiting in 1956 to work with the British Antarctic Metrological Service. He lived here until 1963 marrying his wife Ann in Christ Church Cathedral in 1958. His work on wildlife in the Falklands drew him to the attention of Sir Peter Scott who in 1982 invited him to serve on the advisory board of the then Falkland Islands Foundation, the precursor of Falklands Conservation, a post he held until the mid 1990s when he became a trustee of Falklands Conservation. He later became its Deputy Chairman in 1999-2002 and Chairman from 2002 -2005. He is now a member of its scientific advisory committee. Since retirement he has visited the Falklands almost every year and has spread his expertise and interest widely both in the Falklands and the UK where he is a member of several prominent ornithology societies. During his latest visit he has participated in two local seminars namely protecting the Cobbs Wren and sustaining the rat eradication programme in the Falklands: "He is a real asset to us," said Governor Huckle. The order of the British Empire was created in 1917 by King George IV to recognise services to the crown during the First World War and has evolved now to embrace exceptional service and achievement in all fields. Continued on page 3.Saints to learn from our mistakes? WHAT would you do differently? Is the question Linda Houston of the St Helena Development Agency (SHDA) is asking Falklands councillors and members of the business community during a visit to the islands. The Scotswoman, employed as the Director of the SHDA, is hoping to learn from the Islands development successes and failures in order to apply them to a territory potentially set to transform dramatically in terms of tourism, should Britain invest in the provision of St Helena's first airport. The purpose of the SHDA, said Mrs Houston, is to help develop the territory in order to attract investment to create an economy on the back of air access. St Helena needs a more business friendly environment, she explained: "current regulations and legislation, like the Falklands, are not liberal enough to attract investment and development. We are looking at how to improve that." St Helena also has limited strategic sites. "We have to look at what we want and encourage the best in the world to come and invest," said Mrs Houston. She explained that the reason for her visit is twofold. Primarily she wishes to communicate first-hand with the St Helenian community in the Falklands. "I'm not here to poach St Helenians from the Falklands work-force," she said, "but potentially the opportunity will exist for St Helenians in the Falklands that are already intending to go home to bring skills and expertise back. "The fact that they have travelled overseas to seek opportunities suggests they are already entrepreneurial types. I want to make sure we are talking to them about what is happening on St Helena. Also those well established in the Falklands might be interested in setting up branches of businesses in St Helenian or investing in the place. Continued on page 2.Remains identified PRELIMINARY DNA tests have identified human remains, returned to Argentina from the Falklands in August, are likely to be those of Air Force navigator Captain Fernando Casado. Captain Casado is believed to have been shot down during the last air incursion before the end of the Falklands War in June 1982. According to Buenos Aires newspaper Clarin, Captain Fernando Casado (37) who was married with three children, was co-piloting a Canberra MK-62 which together with a second bomber left Rio Gallegos on June 13 at 2130 hours carrying bombs. His aircraft was likely to have been shot down by a British missile. The Canberra pilot survived but Captain Casado did not eject in time. The preliminary DNA reports are from Argentina's National Genetic Bank, Durand Hospital Immunology Department. The results of the tests were apparently sent to the Argentine Foreign Affairs Ministry last week. Foreign Affairs Minister Jorge Taiana refused to comment until the family had been informed. Clarinsaid the remains were DNA tested and compared with those of Captain Casado's living brother. The report continues, "The Argentine Air Force from the very beginning speculated that the remains could have come from the Canberra's incursion given the place where they were found. Although discovered in 1986 they were held at Stanley Police Station. Inside Penguin News- Page 3: New staff at FICS. - Page 4: Uni students boost aquaculture project. - Page 5: Dictionary of Falklands Biography. - Centre: Penguin Newsgoes winch training.