Argentina honors last airman downed in Falklands' war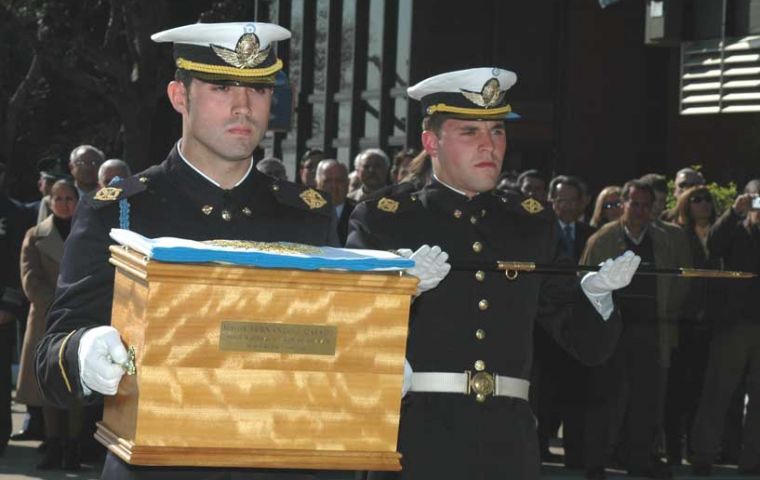 In a moving military ceremony the remains of an Argentine Air Force Canberra navigator shot down over the Falkland Islands in 1982 were handed on Monday to his family for burial in Cordoba.

The ceremony in the military premises of Buenos Aires Aeroparque was headed by Defence minister Nilda Garré and Deputy Foreign Affairs minister Victorio Taccetti as well as Joint Chief of Staff Brigadier Jorge Chevalier and the whole command from the Air Force, several of them Malvinas war veterans. Mayor (post mortem) Fernando Juan Casado and his BMK 62 Canberra were shot down on June 13th, the day before the end of the conflict, but remains were not found until 1986 in a near by beach, and were later deposited in the Stanley Police station. Earlier this year the remains were returned to Argentina and with the scientific support of the country's Genetic Data Bank, following DNA tests they were identified as belonging to navigator Casado. During the ceremony Argentine Air Force commander Brigadier Normando Constantino expressed gratitude to the ministries of Defence and Foreign Affairs for their efforts in obtaining the remains. Constantino also thanked the Genetic Bank for the identification and praised Mayor Casado who was to be the last airman downed over the Islands during combat with the British task force. The last mission, two Canberra escorted by two Mirage III, left from Rio Gallegos to bomb Port Harriet House at 21:30 hours but only one of the bombers returned. His companion pilot Roberto Pastrán managed to parachute and was made prisoner. The Canberra was shot down by a Sea Dart missile from HMS Exeter in Fitz Roy. The following day Argentine forces surrendered in Stanley. The ceremony ended with the presentation of the remains plus a Malvinas veterans' cap, graduation sword and an Argentine flag to his widow and three children, one of them Air Force captain. Casado's remains and his family were then flown to Cordoba in a Hercules C-130 for the final resting place in the Malvinas mausoleum of Carlos Paz cemetery. Brigadier Chevalier and Constantino are both Malvinas war veteran pilots. Chevalier belonged to the Canberra bombers wing.