Argentina's Army commander relieved on corruption charges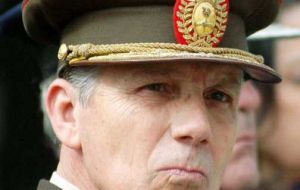 Argentina's Army Commander General Roberto Bendini has lost his job for alleged corruption actions which took place between 2003 and 2004. When the judicial probe and indictment were announced on Thursday, the General presented his request for early retirement to Defence Secretary Nilda Garré.
A close ally of the presidential Kirchner family, his relieve was accepted by President Cristina Fernandez de Kirchner and announced by cabinet chief Sergio Massa. General Bendini's request "does not surprise nor is it surprising" said Massa adding that the current judicial process "is not specifically linked to his request". The former commander of the Army was indicted by the Appeals Chamber of Comodoro Rivadavia which revoked a lack of merit ruling which had benefited Bendini when the case was in the court of Rio Gallegos Federal judge Gerardo Caamaño. The probe relates to alleged corruption cases which happened between 2003 and 2004 when Bendini was commander of the XI Mechanized Brigade stationed in Rio Gallegos. It specifically refers to fund transfers between accounts in Banco de Santa Cruz. Bendini who has a long relation with the Kirchners from when they ruled Santa Cruz, was made commander of the Army in May 2003, one of the first decrees signed by elected president Nestor Kirchner. Former president Kirchner mistrustful of the generals in Buenos Aires made Bendini his most trusted ally in military issues. His photo traveled the world when during a visit to the Army's high command President Kirchner ordered that the pictures of former Army commanders (and dictators) involved in the human rights violations of the seventies be drawn down from the honors' gallery. Bendini stepped on to a chair and took down the picture of General Jorge Videla, the head of the military Junta that came to power in April 1976 and marked the beginning of the bloodiest and darkest period of recent Argentine history. The court case involves several other Generals and Colonels, some of them already ousted from the Army who had top jobs or were linked to procurement departments. If he is found guilty, General Bendini could face from 2 to 8 years in jail.