Private pension funds nationalization shocks Argentina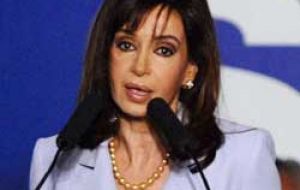 Argentine President Cristina Fernandez proposed Tuesday a government takeover of nearly 30 billion US dollars in private pension funds, saying pensioners must be protected from the global financial crisis.
However the decision triggered steep falls in Argentine stocks and bonds further threatening the country's financial situation. "While the US and other countries are stepping in to rescue their banks, Argentina must protect our pensioners" Mrs. Kirchner said on signing the nationalization bill that now goes to Argentina's Congress, where her ruling coalition has a majority. Amando Boudo, executive director of Argentina's national social security administration, said "the government's only motivation to carry out this measure was to rescue our future and current pensioners from uncertainty." He added that the government will invest 60% of its pension funds in bonds and 10% in stocks. He called the privately run system an "enormous error.'' Mrs. Kirchner's her political opponents called it a naked scramble for cash to prop up falling tax revenue, and financial analysts said the plan puts property rights at risk. The Buenos Aires' Merval index closed down 10.99% to 1,047 after dropping more than 13% percent in mid-day trading extending the month's loss to 35%. Benchmark Argentine bonds fell by an average of 7%, fuelling the country risk measured by JP Morgan's EMBI+ index to 1,604 basis points. The ten private companies that manage the funds were banned from trading on the Buenos Aires Stock Exchange for seven working days by federal Judge Claudio Bonadio, who said their dumping of bonds and stocks provoked the sharp drop in Merval Tuesday and amounts to "fraudulent mismanagement," according the official news agency Telam. Critics suspect the government is more concerned about replacing falling tax revenues than protecting pensioners. Economic analyst Rogelio Frigerio in Buenos Aires called it "a desperate measure to fill the coffers of the public sector." Political opposition leader Elisa Carrio accused the government of trying to "loot the funds of pensioners". The decision to nationalize the system ''generates a context that discourages investment in Argentina,'' the private pension fund association, Union de AFJP, said in a statement released just prior to the rally. The nationalization would provide the government with enough cash to pay off millions in debt and finance infrastructure projects starved for credit. The private accounts were created in 1994 under President Carlos Menem as part of a wave of privatizations. About one-fourth of Argentina's 40 million citizens use the private funds, contributing a total of 4.6 billion USD annually. The Kirchners administration needs funds to meet 12 billion USD in foreign debt payments that due next year, while government revenues are being squeezed by falling prices of soy, corn, wheat and beef and slower activity. But although Argentina's case can be considered atypical, pension funds are in trouble around the world. US investors have lost 8.3 trillion USD from pension funds, college savings plans and other investments since the DJI topped 14,000 on Oct. 9, 2007.