Karl Marx was never so right, says Nobel laureate Saramago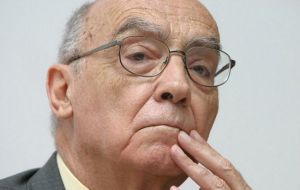 "Karl Marx was never so right as now" about the current crisis of the capitalist system said Nobel Prize in Literature Jose Saramago during the presentation in Lisbon of the film "Blindness", partly filmed in Montevideo, with a script based on his novel.
"Where was all that money poured on markets? Very tight and well kept; then suddenly it appears to save what? lives? no, banks", said Portugal's only winner of the Nobel in Literature (1998) at a press conference to present the film directed by Brazilian master Fernando Meirelles. "Marx was never to right as now", underlined Saramago who anticipated that "the worse is still to come". When asked about the link between the theme of the novel and the current financial crisis Saramago said "we are always more or less blind, particularly for what is essential". The 85 year old Portuguese writer is the author of thirty works including prose, poetry and theatre. Last August and fresh from a pneumonia recovery Saramago finished his latest novel "The trip of an elephant", a jovial epic story about an Asian elephant in Europe during the XVI century. The Portuguese writer is well-known to readers for his books of subversive perspectives on historic events, in which he emphasizes the human factor rather than the officially sanctioned story.