Suitcase scandal: key witness confirms Kirchner involvement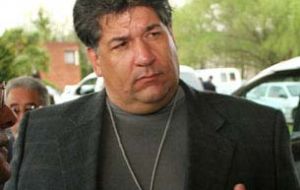 In his first interview with the Argentine media the Venezuelan/US citizen Guido Antonini Wilson said former president Nestor Kirchner had promised him "protection" in exchange for "silence" regarding the case of the suitcase stuffed with 800.000 USD.
According to La Nacion from Buenos Aires Antonini Wilson insisted that besides the 800.000 USD which Argentine Customs in Buenos Aires airport discovered on August 4 last year, there was a second suitcase with 4.2 million USD, which went undetected and it was all money to finance the presidential campaign of Cristina Fernandez de Kirchner. Antonini Wilson revealed details of a conversation with Claudio Uberti, the "money man" and a top ranking Argentine official and direct liaison between former president Kirchner and Venezuela's Hugo Chavez, the following day after the incident. "At the hotel in Buenos Aires Uberti told me that Kirchner had asked about me and how I was feeling and that he was prepared to "stand up by me" until the very end", said Antonini Wilson who accused Uberti of being the man responsible for transporting the money in the Argentine Energy Corporation chartered Lear jet. "When he mentioned Kirchner's interest I got the feeling they wanted me involved in the crime. When I asked Uberti if he was certain the Argentine government was in the case he said: "ask whatever you want; the President told me you could have a licence to sell Argentine beef in Venezuela"". Antonini Wilson admits having signed a document where he recognized the seized suitcase belonged to him "so I could leave the airport as soon as possible". He also offered details of a conversation between Diego Uzcategui, PDVSA (Venezuelan government oil corporation) General Manager for Latinamerica, --who was later forced to resign--, and his son Daniel, who also travelled on the same private flight from Caracas to Buenos Aires with officials from Argentina and Venezuelan oil companies. "While we were discussing, Diego asked his son about the other suitcase with 4.2 million USD and Daniel said it had cleared (Customs)", he recalled. "I was almost in shock but Diego told me to be calm, since he was tired of hauling suitcases with money on the Falcons (jets)" which make up the PDVSA air fleet and presumably the origin of the 4.2 million USD. Antonini Wilson is accused in Argentina of contraband, money laundering and there's an international warrant on him. He recently acted as a protected FBI witness in a Miami federal court which condemned his partner Frankly Duran for conspiring and acting in US territory as a foreign agent for Venezuela, trying to convince Antonini Wilson not to reveal the origin or destination of the money confiscated. Argentina has requested the US the extradition of Miami resident Antonini Wilson whom the Cristina Kirchner administration describes as "good for nothing paid witness" who is only intent in blemishing the Argentine president. The "suitcase" caused several diplomatic rifts between Buenos Aires and Washington. However the US has replied that the judicial system is independent and there was no intent of involving Argentine officials in the case.