Paulson changes focus of bail out plan to spur liquidity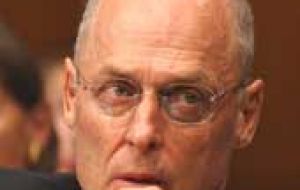 The 700 billion US dollars bail-out package has already "clearly helped stabilise" the financial system, US Treasury Secretary Henry Paulson said on Wednesday but he also warned there were still many challenges ahead and market turbulence was likely to continue for some time.
Mr Paulson said authorities had abandoned plans to use some of the 700 billion to buy up banks' bad debts. He also appeared to rule out giving any of the funds to US carmakers, saying the bail-out was for financial firms. Instead of buying up the banks' toxic debts, as first proposed by the rescue deal, the bail-out fund will continue to be used to buy shares in the lenders to help boost their balance sheets. "Illiquidity in this sector is raising the cost and reducing the availability of car loans, student loans and credit cards" Paulson said in a speech at the Treasury. He added that "this is creating a heavy burden on the American people and reducing the number of jobs in our economy.'' His remarks are an acknowledgement that the pitch he made to the US Congress for the bailout hasn't delivered what was promised. Paulson sold the Troubled Asset Relief Program as a way to rid bank balance sheets of illiquid mortgage assets, and he may encounter resistance from Congress for the remaining 350 billion US dollars after using most of the first half to buy bank stakes. However, Mr Paulson added that the Treasury Department and the Federal Reserve would continue to monitor whether bad-debt purchases could "play a useful role" in the future. Mr Paulson's comments did little to ease continuing investor jitters, and Wall Street's main Dow Jones index ended Wednesday trading in New York down 4.7%. However, many analysts said he was right to backtrack on the plan to buy up the bad debts, saying it was difficult to see it being workable, and that simply buying up more banking stock was more straightforward. "The best bet is just to give them [the banks] the capital and to let them absorb the losses anyway," said Rudy Narvas, senior analyst at 4Cast. "That is exactly what it looks like is happening." Mr Paulson's comments regarding America's three main carmakers - General Motors, Ford and Chrysler - are likely to disappoint House of Representatives Speaker and leading Democrat Nancy Pelosi. On Tuesday night she called for the government to spend some of the 700 billion on the three firms, who are all now struggling against big losses and falling sales. "In order to prevent the failure of one or more of the major American automobile manufacturers, Congress and the Bush administration must take immediate action," said Ms Pelosi. There is, however, a great deal of opposition to a bail-out for the car industry. "Once we cross the divide from financial institutions to individual corporations, truly, where would you draw the line?" said Jeff Sessions, Republican Senator for Alabama. The call for help comes after General Motors (GM) announced a third-quarter operating loss of 4.2 billion last week. The carmaker said it would run out of cash early in 2009 if market conditions did not improve. GM also announced it would be forced to lay off 3,600 workers, and has since announced a further 1,900 job cuts. Last week, Ford also reported a 2.98 billion loss for the third quarter and said it would have to cut salary-related expenses in North America by 10%. Sales at the two car giants have been hit hard as consumers tighten their belts for the impending recession. Sales at GM fell by 45% in October compared with the same month last year, while sales at Ford fell 30%. Chrysler was also hit hard, with sales falling 35%. At the start of October, President George W Bush signed legislation that gives GM and fellow US carmakers Chrysler and Ford access to 25 billion of cheap government-backed loans to help them develop less-polluting cars.