Obama will not be at financial summit; sends two emissaries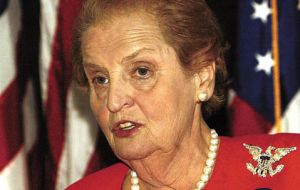 President-elect Barack Obama named former Secretary of State Madeleine Albright and former Republican Representative Jim Leach as his emissaries at the international economic summit hosted by President George Bush in Washington on November 14/15.
"There is one president at a time in the United States, so the president-elect has asked Secretary Albright and Congressman Leach, an experienced and bipartisan team, to be available to meet with and listen to our friends and allies on his behalf'' Obama's senior foreign policy adviser Denis McDonough said in a statement. The meeting is an attempt to coordinate government responses to the worst financial crisis in 80 years. European leaders including French President Nicolas Sarkozy and British Prime Minister Gordon Brown have called for restructuring the international regulatory system to deal with the credit crisis. John Podesta, the head of Obama's transition team said that Obama, who will be inaugurated on January 20, wouldn't attend or meet with any of the leaders in the US for the summit. "We'll be kept informed both in advance of the meeting and, I'm sure what takes place during the course of the meeting", said Podesta. Albright and Leach will brief Obama and Vice President-elect Joe Biden following the meeting. Details of who the two will meet with will be released at a later date, McDonough said. "This weekend's summit is an important opportunity to hear from the leaders of many of the world's largest economies,'' McDonough said. "President Bush should be commended for calling the summit". Albright, 71, was secretary of state in President Bill Clinton's administration. Leach, 66, is a professor at Princeton University's Woodrow Wilson School of Public and International Affairs. He represented Iowa in the U.S. House of Representatives from 1977 to 2007 and is a former chairman of the House Banking Committee. White House spokeswoman Dana Perino said the Bush administration views the Obama team's participation appropriate and welcome. "It's a good idea to make sure that there's good, fluid communication between his team and leaders who want to establish relationships with the president and his representatives'' she said. "We welcome it".