Casa Rosada world stage for Cristina, Ingrid and Madonna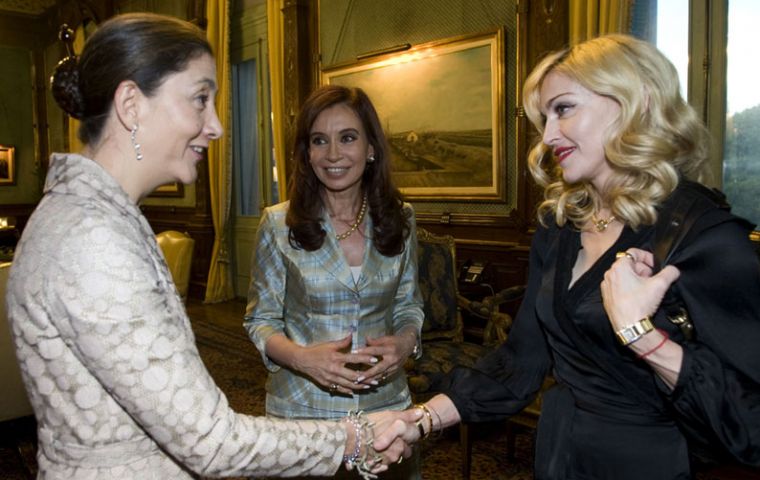 US pop star Madonna met with Argentina's president Cristina Fernandez de Kirchner and former guerrilla-held hostage Ingrid Betancourt on Tuesday at the presidential palace in Buenos Aires where she filmed "Evita" twelve years ago.
Madonna in Buenos Aires on the Latin America leg of her "Sticky & Sweet" world tour, showed up early for a visit to President Cristina Fernandez?who was then meeting with the world's best-known ex-hostage and former Colombian presidential candidate. Ingrid Betancourt was freed in July after being held more than six years in jungle camps by Marxist inspired, cocaine funded rebels from the Revolutionary Armed Forces of Colombia. She was visiting Argentina to thank its government for working to free hundreds of other hostages left behind. Mrs. Kirchner brought Madonna and Betancourt together for a brief meeting that was closed to the press. The trip marks Madonna's third visit to Buenos Aires, where in 1996 she played Eva Peron, the first lady of Argentina from 1946-52, in the musical film "Evita."Then-President Carlos Menem permitted her to film one of the movie's most famous scenes on the balcony of the palace, where she sang "Don't Cry for Me Argentina." Madonna arrived in Buenos Aires with her three children and 200 dancers, technicians and other crew members. She gives the first of four concerts on Wednesday. From Casa Rosada Ms Betancourt left for the French embassy to meet the press, while Madonna had a private meeting with Madonna. Ms. Betancourt is on a Latinamerican tour to thank efforts for her release and to keep pushing for the liberation of the hundreds of hostages still in the hands of the rebels in the middle of the Colombian jungle. "Today was a meeting of two women who with out knowing each other, they love each other", said Ms Betancourt who added she was in Buenos Aires to thank "that open hand which helped to make a difference, which helped that I and fifteen other companions could be liberated unharmed in a bloodless action". "I have great affection for Cristina, a woman who in difficult moments had the courage to address the Colombian issue, she's a woman I've come to honour", said the former hostage who revealed that while in the jungle she was able to hear on the radio "her brave words, and since then I've wanted to meet her personally". "She expressed words of courage and commitment for my freedom when she was at her greatest moment, on taking office, and I and the other hostages most appreciate that gesture", said Betancourt. The Colombian leader has already met with Ecuadorian president Rafael Correa and from Argentina is scheduled to visit Peru, Chile, Brazil, Bolivia and Venezuela.