France receives first couple of former Colombian rebels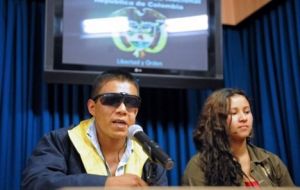 A young Colombian rebel who won hero status for freeing a kidnapped politician headed for France on Tuesday accompanied by his girlfriend, the world's most celebrated ex-hostage and a fat reward check.
The package deal for 28-year-old Wilson Bueno was the wish of Ingrid Betancourt, who proposed it when she arrived in Colombia a week ago for a South American tour. The former presidential candidate, who was rescued in a bloodless July military mission (Operation Jaque) after six years in captivity, said she wanted Bueno to fly with her to Paris to send a message to rebels who still hold other hostages â€" and to ease him into a new life. To make that happen, authorities dropped rebellion charges against Bueno, who earned his 400,000 US dollars reward by risking his life when he dragged to freedom a badly weakened Oscar Tulio Lizcano, 62, in late October. Colombian prosecutors said Bueno had not participated in the congressman's kidnapping. Bueno's girlfriend Lilia Isabel Banol, who deserted three months ahead of him, was also to be on the Air France flight bound for Paris' Charles de Gaulle airport, officials said. Late last year, France offered political asylum to Colombian rebels from the FARC (Marxist oriented, cocaine funded, Colombian Revolutionary Armed Forces) movement who desert with hostages in tow. Betancourt, a dual French national kidnapped in 2002, was rescued in an elaborate ruse along with three US military contractors and 11 other Colombians. "I'm going to France to get to know it. We'll have to see what awaits us there," Isaza told reporters Tuesday, wearing a track suit flanked by Colombia's defence minister and chief prosecutor. "We hope it's a beautiful future." Defence Minister Juan Manuel Santos said Bueno, a 12-year FARC veteran who lost his left eye in combat, would receive part of his reward in a bank account in France and part would stay in Colombia for the ex-rebel's family. Ms Betancourt left Colombia after a tour that took her to Ecuador, Brazil, Argentina, Peru, Chile, Bolivia and Venezuela. In the last leg of her trip she met with Venezuelan president Hugo Chavez Monday at the presidential palace in Caracas and thanked him for all the support in liberating the hostages held by FARC. "What you did was very valuable President Chavez…not only did you save some of my companions with your negotiations but also opened the way for me and my group of hostages to be liberation", she emphasized. Ms Betancourt was referring to the six hostages unilaterally freed last January and February. "With out your contacts we wouldn't have had the chain of events which enabled the Jaque operation", said the former hostage. FARC rebels according to the Colombian government are still holding some 700 hostages for ransom or political leverage.