Putin's Russia supports Argentina's Falklands claim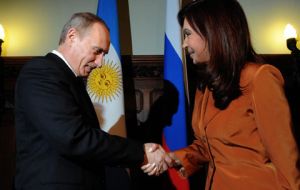 Russia openly supported Argentina's sovereignty claim over the Falkland Islands and called for a peaceful resolution of the dispute with Britain in the joint statement following the meeting at the Kremlin in Moscow of President Cristina Fernandez de Kirchner with counterpart Dmitri Medvedev.
The call said the resolution should take place "in accordance with a UN mandate" in reference to the 1965 UN resolution that called for negotiations between the two countries. Britain has rejected the call for talks, saying there is nothing to negotiate since the people of the Falkland Islands in use of the right to self determination prefer to remain British. During Mrs. Kirchner's visit, Russia and Argentina signed several cooperation agreements on different fields, promised to promote trade, criticized the United States calling for a multi-polar world and underscored Russian energy corporations interest in regional projects including exploring for oil and gas in the South Atlantic. According to Argentine sources Russian energy corporations in the coming months will be investing 500 million US dollars in several projects in Argentina and will be invited to participate with Enarsa, the Argentine state energy company, in South Atlantic exploration for gas and oil. However is spite of the apparent success of Mrs. Kirchner's visit to Russia, several possible understandings which were leaked to the media previous to the meetings in the Kremlin did not crystallize. Apparently Russia was interested in an explicit support from Argentina for Moscow's aspiration to become a full member of the World Trade Organization. This demands Argentina to recognize Russia as an open market economy. The understanding finally fell through. Moscow was also expecting Argentina to back Russia's policy towards the Caucasus nations, more specifically the Georgia and South Ostesia conflict but the final wording of the joint declaration only made reference to the agreement reached between French President Nicholas Sarkozy and Dmitri Medvedev to avoid an escalation of violence in the area. The reciprocal elimination of visas for Russian and Argentine visitors remained mired in bureaucratic details. Finally apparently the Russians were much updated with some of Mrs. Kirchner's statements of last year when defending Venezuelan leader Hugo Chavez she argued that the Latinamerican energy equation does not square without Venezuela. "Latinamerica needs Chavez as Europe needs (Vladmir) Putin", said the Argentine presidential candidate last year during a meeting in Madrid with Spanish businessmen with investments in Argentina.