Russia/Argentina sign "strategic alliance" and criticize US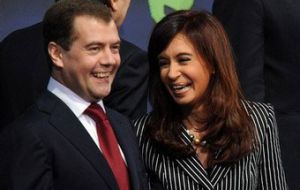 Argentine President Cristina Fernandez de Kirchner called for a closer partnership with Russia at Kremlin talks on Wednesday, implying criticism to the United States perceived dominance of world affairs.
"We must deepen our political dialogue, our cooperation on the international arena, because above all Russia and Argentina are convinced ... of the need to build a world based on multi-polar principles" Mrs. Kirchner said at the Kremlin. "The domination of one state, even the biggest, most powerful or most successful one, is unacceptable in any case" said Russian President Dimitry Medvedev. The Argentine president went further arguing that "powerful states" had forced economic and security policies onto others and now "we see the results of such policies: the whole planet is paying for it". Both leaders presided over the signing of agreements dealing with nuclear and conventional power, scientific research and food exports. Medvedev and Mrs. Kirchner then signed a joint declaration for the building of a "strategic alliance" between Russia and Argentina and emphasized on the multilateral approach "... in the search for peaceful resolution of intergovernmental conflicts and the new problems of forming a multi-polar world". Bilateral trade has risen fourfold over the past five years to about 1.5 billion US dollars a year, with Argentina exporting agricultural products and Russia fuel and fertilizers. The Argentine president visit to Moscow comes weeks after a high profile tour of President Medvedev to Peru, Brazil and Venezuela, and is indicative of the Kremlin's interest in developing stronger links with the region. On Wednesday also Russia's energy giant LUKoil signed a preliminary accord to sell oil products to Energia Argentina as it expands in Latinamerica. LUKoil said it planned to sell diesel and fuel oil to Enersa and use transit routes and storage facilities belonging to refiner Pobater. LUKoil is already involved in exploration projects in Colombia and Venezuela and has shown an interest in acquiring a significant share of Spain's Repsol-YPF, also highly involved in Latinamerica. Russian Energy Minister Sergei Shmatko revealed on Wednesday that Gazprom, another Russian energy giant (main gas supplier of Europe and has the world's largest reserves), was in talks over the construction of a gas pipeline that would link Bolivia and Argentina, Interfax reported. "Gazprom is already actively cooperating with Argentina and is ready to work with Bolivia on promising but hard-to-access sites," he said. Mrs. Kirchner on Tuesday met with Prime Minister Vladimir Putin and according to Russian news agencies Argentina might be interested in purchasing military equipment from Moscow. Argentina will have privileged access to the Russian market for agreed volumes of certain food commodities.