Wall Street hedge fund con: where are the US regulators?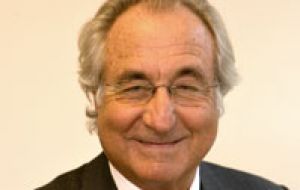 A firm that counted itself a client of a broker accused of a 50 billion US dollars Wall Street con has criticised US regulators for what it says are "systemic failures". Bramdean Alternatives said the charges against Bernard Madoff raised "fundamental questions" about the American financial regulatory system.
The Ponzi scheme at the centre of the fraud claims had promised high returns. Investors are assessing their exposure to the alleged fraud Mr Madoff is said by prosecutors to have confessed to. Prosecutors say Mr Madoff, ex-head of the Nasdaq stock market, has described the fraud as "one big lie". A federal judge has appointed a receiver to oversee Mr Madoff firm's assets and customer accounts, while the 70-year-old banker has been released on 10 million USD bail. Bramdean, a UK-based asset management company run by Nicola Horlick, saw its share value drop by over 35% after it revealed that about £21 million, nearly 10% of its holding, was exposed to the New York broker. "It is astonishing that this apparent fraud seems to have been continuing for so long, possibly for decades, while investors have continued to invest more money into the Madoff funds in good faith," the firm said. "The allegations made appear to point to a systemic failure of the regulatory and securities markets regime in the US." Bramdean added that the "apparent failure raises fundamental questions about the regulatory system under which this has happened and no doubt this will be the subject of intense debate as the facts emerge." Ms Horlick told the Sunday Telegraph that "most investors, including ourselves, regarded the Madoff strategy as offering a stable source of returns". "Yet it seems criminal activity has continued undetected for years." Mr Madoff founded Bernard L. Madoff Investment Securities in 1960, but also ran a separate hedge fund business. Investors have withdrawn from hedge funds amid market volatility According to the US Attorney's criminal complaint filed in court, Mr Madoff told at least three employees on Wednesday that the hedge fund business - which served up to 25 clients and had 17.1 billion under management - was a fraud and had been insolvent for years, losing at least 50 billion. He said he was "finished", that he had "absolutely nothing" and that "it's all just one big lie", and that it was "basically, a giant Ponzi scheme", the complaint said. He told them that he planned to surrender to the authorities but not before he used his last $200m-$300m to pay "selected employees, family and friends". Under a Ponzi scheme, which is similar to pyramid schemes, investors are promised very high returns on their investment, while in reality early investors are paid with money collected from later investors. If found guilty, US prosecutors say he could face up to 20 years in prison and a fine of up to $5m.