Botnia Pulp and Fiction: Finnish "mea culpa"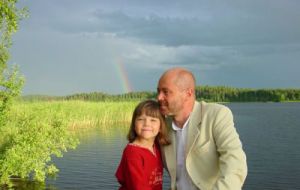 Jussi Pakkasvirta, an expert on the political history of Latin America from Helsinki University, has recently published a wide-ranging study of attitudes towards the Finnish pulp and paper industry's controversial moves into South America.
Jussi Pakkasvirta's book Pulp & Fiction (Gaudeamus 2008) focuses on the conflict that arose during the construction by the Finnish company Botnia of a huge new pulp mill at Fray Bentos in Uruguay. The mill started production in November 2007 in spite of strong opposition, especially on the other side of the River Uruguay in neighbouring Argentina, where protestors have blocked a bridge linking the two countries – and burnt "imperialist" Finnish flags. Did the Finnish pulp manufacturers moving into South America underestimate the likelihood of local opposition?Yes, probably, because they mainly concentrated on legal and technical issues. They didn't look deep enough into political and cultural aspects, and for such a massive investment such analyses are also needed. And as they gained acceptance in Uruguay, they made the big mistake of analysing Argentinean reactions through Uruguay. What was the reaction in Uruguay?Initially in Uruguay there was small-scale local opposition, particularly to the large eucalyptus plantations set up to feed the pulp mill. But in Uruguay there are no major problems with land rights as in Brazil, where violent conflicts have occurred with a local landless people's movement protesting against the extensive eucalyptus plantations established for the Veracel pulp mill [a joint venture involving the Finnish paper company Stora Enso]. The Uruguayan authorities have generally welcomed the mill. In Fray Bentos it is seen as generating jobs and benefiting the regional economy. Were the Uruguayans worried about environmental problems?Local environmental groups were well aware of past problems, including a serious accident at a pulp mill near Valdivia in Chile in 2005, which contaminated rivers and ecologically valuable wetlands with toxic chemicals. People are also still worried about the dramatic changes caused by any such huge industrial complex, as well as impacts on tourism, fishing and property prices. But public approval for the mill rose rapidly from 50% in 2005 to 85% in 2007 – not least as a response to opposition to the mills from "big brother" Argentina! What happened over the border in Argentina?Local groups in contact with Uruguay soon started to look at possible impacts of the mill. One environmentalist said that the mill would pollute the river, resulting in three-headed fishes and increased rates of cancer. Such scare stories made people afraid. The situation in Argentina was still explosive after the recent financial crisis, when foreign involvement was widely criticised. The mass movement against the mill became a lifestyle for many people. Local politicians had little choice but to support the movement, in line with populist Peronist thinking. How could Botnia have handled the situation better?Botnia conducted excellent environmental impact analyses to European standards, and the pulp mill really does use the best practices. Botnia has also run a "goodwill project" that enables wastewater from the town to pass through the mill's treatment plant, meaning that the river downstream should actually be cleaner than before the mill was built. But local people are not used to industrial companies acting this way, and they are especially reluctant to trust foreign companies. Botnia actively spread information on the Uruguayan side, but I think they didn't do enough in Argentina. Prejudices quickly built up on both sides, and negotiations became impossible. There was a need for what we call a "democratic learning culture" – meaning that you should try to understand arguments on the other side and discuss openly rather than aggressively. Botnia generally adopted a low profile, stressing that "We are here legally," leaving Uruguay and Argentina to sort out the conflict. This might have been the best option in the end, considering that they got the mill running almost on schedule! I think Botnia has learned that social impact analyses should also deal carefully with cultural and political issues. Setting up a huge pulp mill in a country like Uruguay is not like expanding operations in Finland where the paper industry has been established since the 19th century. How has Finland's international image suffered due to this conflict?Argentineans widely criticised the Finnish state, which has backed Botnia's investments in Uruguay. Demonstrators burned Finnish flags and made banners directed personally against Finnish politicians as well as Botnia's managers. The Finnish state is nowadays widely seen around South America as a neo-colonialist actor. Finland was earlier only known as a cold, dark country home to Santa Claus and a few rally and Formula 1 drivers – but suddenly it has this image as a rich imperialist country. Recent studies have shown that Finland's brand image is worst namely in Latin America – also because of a corruption case in Costa Rica, and that stupid Finnish tourist who cut off an ear from an ancient statue on Easter Island! What has been the response in Finland to the "flagship" paper companies moving into South America while cutting jobs in their home country?The paper companies' moves into South America are understandable, as they can more than double the profitability of pulp-making by getting fibre from their own fast-growing eucalyptus plantations. But it was very strange that the Finnish media did not often connect these moves with the job losses happening at Finnish mills at the same time. The Finnish media tended to reinforce stereotypical images of rational and intelligent Finns trying to introduce progressive technical developments around the world – opposed by hot-headed and emotional Latinos. This was partly in response to Argentinean media stories that all the pulp mills in Finland are closing because the local lakes are polluted and the people are ill. Journalists in Argentina often based their stories on propaganda, prejudice and unreliable informants, while ignoring scientific research and impact analysis. But the Finnish media also like to defend the image of Finland being this most honest, innovative and technologically superior country. How has the conflict affected the future prospects for similar investments in South America by Finnish and European companies?This conflict has perhaps most affected Argentina's reputation for potential foreign investors. Companies have learned that such major projects still create emotional responses, and they shouldn't expect to be welcomed warmly by everyone. It could be that the demonstrators will soon get tired. They are still illegally blocking the bridge, which is vital for trade and tourism between Argentina and Uruguay. Both sides would really like to normalise their relations again. There are hopes that the crisis may finally be resolved on the basis of a decision to be made by the International Court of Justice in The Hague. What has made these conflicts so interesting for you as an academic?As a Finnish Latin Americanist, I'm very interested in reactions to Finnish involvement in Latin America. I'm also interested in environmental conflict resolution in Latin America in general and in ways to prevent conflicts beforehand by taking corporate social responsibility seriously. Dramatic Latin american adventuresFact file Jussi Pakkasvirta Born: 12 September 1958, Hanko. Present home: Oulunkylä, Helsinki. Academic background: PhD in Political History; Associate Professor of Latin American Studies at the Renvall Institute, University of Helsinki; Visiting Professor at the University of Costa Rica. Family: Wife Florencia, from Costa Rica; three daughters: Elsa, Frida and Kerttu. "I was already interested as a young boy in American Indians, the Mayas and the Aztecs. While I was serving in the army, I got to know Marcus, a Spanish-Finn, and through him I learned a bit about Spanish culture. When I was studying sociology at the University of Tampere the revolution in Nicaragua broke out. After following it in the news for a while, I felt like I wanted to get involved and defend the revolution. The first time I travelled to Latin America was in 1985, as a member of one of the "coffee brigades'"- groups of international volunteers organised to help bring in the harvest at Nicaragua's state farms. I was made a leader of my brigade since I spoke fluent Spanish. Since then, I've visited the continent about once a year and lived there on and off for a total of around seven years. Meeting my wife would have to rank up there as one of my best experiences. Having one of my close friends killed while fighting in the Nicaraguan civil war against Contras was probably the worst. I've met quite a few Latin American heads of state. One of the more unforgettable encounters took place when I had dinner with the commandants of the Sandinista administration. On another occasion, I spent the evening in a Helsinki restaurant in the company of the former vice president of Colombia, before we were ejected from our unreserved table. When I tried to explain to the head waiter that I was with a former vice president and Minister of Defence of a major country, I was told that I "could be chatting with Kekkonen" for all he cared, but since we hadn't reserved the table, we had to go."