Leading global warming experts join Obama's cabinet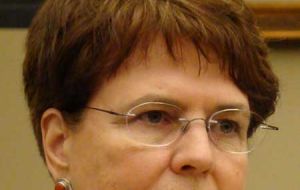 US President-elect Barack Obama has nominated two leading global warming specialists for key science posts in his administration. Harvard physicist John Holdren will be Mr Obama's scientific adviser while marine biologist Jane Lubchenco will head the US oceanic research body.
Both have advocated greater government action on climate change. Their appointments have been seen as a sign of Mr Obama's commitment to tackling environmental issues. In his weekly address, Mr Obama said that "today, more than ever before, science holds the key to our survival as a planet and our security and prosperity as a nation". He said it was "time we once again put science at the top of our agenda" and that he was confident that the US could "lead the world into a new future of peace and prosperity". Mr Holdren was described by Mr Obama as "one of the most passionate and persistent voices of our time about the growing threat of climate change". He has said that climate change is already causing widespread harm and has called for a more robust government response. Mr Holdren will become director of the Office of Science and Technology Policy (OSTP) and the co-chair of the Council of Advisers on Science and Technology. He will share the latter post with Nobel Prize-winning scientist Harold Varmus and Eric Lander, a specialist in human genome research. Mr Lander's appointment has been seen as an indication of Mr Obama's willingness to break from President George Bush's resistance to genetic research. Meanwhile, Ms Lubchenco will direct the National Oceanic and Atmospheric Administration (NOAA) which monitors global weather patterns and ocean currents. She had criticised the Bush administration earlier this year for not being "respectful" of science. "I am very much looking forward to a new administration that does respect scientific information and that considers it very seriously in making environmental policies," she said. Mr Obama, who takes office on 20 January, has now filled all the posts in the cabinet. However all nominees must still be vetted and approved by the Senate.