HMS Endurance KO; she will be towed back to Britain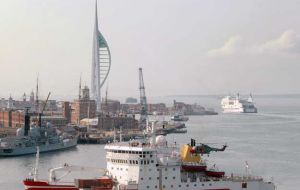 The Royal Navy ice patrol HMS Endurance, --and familiar sight in the Falkland Islands--, currently under repairs in Punta Arenas, extreme south of Chile after having suffered severe damages in the engine room, should be ready to be towed back to England sometime next week, according to the local press.
The icebreaker last December 16 went adrift 330 kilometres to the west of Punta Arenas close to the Pacific access to the Magellan Strait, when a broken valve flooded the engine room leaving the vessel without main power or propulsion. An immediate sea and air rescue operation organized by the Chilean Navy from Punta Arenas evacuated over 20 civilians on board and avoided the drifting icebreaker from grounding on a rocky sea bed. She was later pulled by two tugs to Punta Arenas Navy yard, Asmar, Magallanes where she's currently being prepared for the long haul back to Britain. British naval engineers specially flown in to Punta Arenas and local personnel have managed to empty the water from the engine room, eliminate a few degrees of listing and are patching the double hull. Punta Arenas La Prensa Austral reports that "most probably the icebreaker will be towed back to Britain sometime next week for an overhaul". According to the Asmar yard manager Captain Gabriel Barros since the failure involved all the power and propulsion systems of HMS Endurance, in England they will have to change "engines, generators, electronic panels and control systems". The elimination of the ice patrol for several months will significantly alter the activities calendar of the 2008/09 Antarctic season since she was responsible for much of the support and logistics to Britain's bases and stations. However it was also revealed that HMS Endurance was scheduled for a general overhaul and possible refurbishing next May.