Buenos Aires flat with 360 degrees view on sale for 6m USD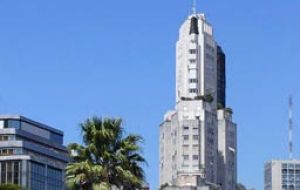 One of Buenos Aires city most exclusive apartments, a lavish flat with five dormitories and three terraces with a 360 degrees view on the fourteenth story is on sale for the modest sum of 6 million US dollars.
The flat is in the emblematic Kavanagh building, Buenos Aires first skyscraper, overlooking the River Plate and with an area of 726 square meters belonged to the Kavanagh family and was constructed in 1936. The sq. meter price works out at 8.126 US dollars, which is the most expensive of Buenos Aires, dearer than modern apartments in the fashionable Puerto Madero surroundings, considered one of the best areas of the city and which have a selling price of 6.000 USD sq. meter. Each suite of the Kavanagh flaton sale has 50 square meters and the terraces 251sq. meters. According to real estate broker Pablo García Fernández the suite bathrooms are covered in marble from "five different continents". The apartment totally recycled belongs to Lord Levenfiche, an international real estate broker who is also selling a 7.5 hectares closed compound which includes a polo field in the outskirts of Buenos Aires. The building made of reinforced concrete has a total area of 2.400 sq meters and is 120 meters high. In the thirties Corina Kavanagh, the daughter of a powerful US family fell in love with one the sons of Mercedes Castellanos de Anchorena, one of Argentina's richest families at the time. However the family was against the relation and finally managed its objective. Corina furious planned her revenge: she sold three estancias and bought a piece of land in the heart of Buenos Aires to build the city's first skyscraper. She did so with only one purpose in mind: that the building with her family's name would completely annul the sight and sun light of the Holy Sacrament Basilica, which belonged to the Anchorena and was to be the family's sepulchre. Built in 14 months and inaugurated January 1936, Corina had fulfilled her objective. The Kavanagh palace has 33 stories, basement, terrace, 113 apartments each of them with different facilities and private entrance. Thirteen lifts, five independent entrances, five stairs, a mini shopping mall on the ground floor and the underground garage, described at the time as a most extravagant in vestment, it transformed downtown Buenos Aires and became an icon of Argentina's capital.