Brazil beefs up troops and forts to protect Amazon forest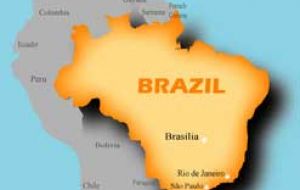 Brazil plans to double the number of troops along the borders of its vast Amazon rain forest area in the framework of the "Protecting Amazon" project, reported O Estado de Sao Paulo" this weekend.
Defence Minister Nelson Jobim said the government will increase the number of troops in the Amazon from 17,000 to 30,000 and build 28 new forts on Indian land and conservation areas of the world's largest rain forest. According to the newspaper report the project is an initiative from President Lula da Silva, which besides increasing presence and patrolling it is geared to change the focus from "live frontiers" to "military vigilance cells", which means military staff will move into the area with their families. There's no fixed timetable for the project, but defence sources said it's a nine year plan which will demand an investment in the range of 500 million US dollars. Existing barracks will also be improved and another 60 million USD has been earmarked. Brazil shares the huge Amazon basin, six million square kilometres, with eight other South American countries: Bolivia, Peru, Colombia, Ecuador, Guyana, Surinam, Venezuela and French Overseas Territory Guyana. Strategic Affairs Minister Roberto Mangabeira Unger said the Amazon protection project is part of a greater Brazilian effort to modernize and equip the armed forces, create a rapid deployment force and update its weapons industry. "The plan includes the restructuring of Brazil's weapons industry to guarantee the supply of defence material without depending on foreign suppliers" President Lula da Silva said at a recent ceremony to unveil the plan. Mangabeira Unger said Brazil "will develop its capacity to design and manufacture conventional and nuclear submarines" to protect its coastline, as well as recently discovered offshore oil reserves that could hold up to 55 billion barrels of oil. "We will not simply be buyers or clients, but partners," Mangabeira said earlier this year. "Any arrangement into which we will enter must, in principle, contemplate a significant element of research and development in Brazil France has promised to provide Brazil with technology to build the Scorpene diesel attack submarine, which officials hope to use to develop into what would be Latin America's first nuclear-propelled sub. Brazil's defence industry was the largest in the developing world in the mid-1980s, but it declined along with demand after the end of the Cold War.