Cuba's Raul Castro scheduled to visit Uruguay this year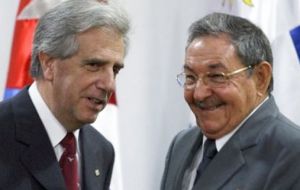 Cuban president Raul Castro will be visiting Uruguay this year, according to reports in the Uruguayan government oriented press. Castro was extended an invitation last June when Uruguayan president Tabare Vazquez was in the island and later confirmed in an official letter.
According to Uruguayan diplomatic sources, Raul Castro, the younger brother of the ailing leader of the Cuban revolution Fidel, replied by letter accepting the invitation, but because of a full agenda, this year. President Vazquez visited Cuba in late June with a numerous official delegation that included several ministers, Economy, Foreign Affairs, Agriculture, Social Development and Public Health, plus representatives from different trade and industry chambers. President Vazquez and President Raul Castro met twice, at the Revolution Palace and later in the evening during the official reception. The Uruguayan leader also had a private meeting with the Cuban revolution leader Fidel Castro who has left all political posts and dedicates his time to write and meditate on world affairs while recovering from serious surgery. At the meeting President Vazquez was accompanied by his brother and Deputy cabinet chief Jorge Vazquez. The two leaders met again in the recent Mercosur and Unasur summits in Brazil, when Cuba formally incorporated to the Rio Group, a political grouping of Latinamerican countries. So far the former Defence minister has visited Venezuela and Brazil in his new role as Cuban president. Fidel Castro in the late nineties visited Uruguay during almost a week invited by the administration of President Julio Maria Sanguinetti.