Record rice crop and stabilized prices for 2009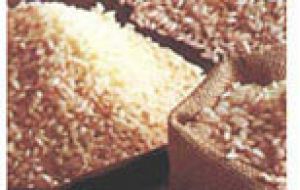 The world can expect another record crop of rice totalling 640 million tons, equivalent to 434 million tons of the elaborate grain, according to a report from Uruguay's Rice Planters association.
However global consumption is estimated to drop slightly below production, given the diet changes in some countries. Rice prices reached a historic 949 US dollars the ton in May 2008 in Thailand, although it has since dropped but not in the proportion that happened with wheat and corn and remains above levels of twelve months ago, says the rice planters' association magazine. Last November 2008, Thailand white rice, reference 100% grade B, increased 9% to 580 US dollars the ton with the support of a government plan. The Thailand government as of November first 2008 is purchasing husk rice at 342.90 US dollars the ton to help farmers during the harvest time. For elaborate rice the intervention price was established at 630 to 640 US dollars the ton. In Vietnam, the world's leading exporter, the latest operation, a sale of 100.000 tons to Malaysia was closed at 425 US dollars the ton FOB.