Sir Alan Walters: "radical, fearless, the finest of friends"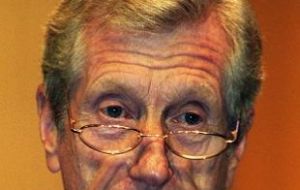 Former Prime Minister Margaret Thatcher's influential economics adviser, Sir Alan Walters, has died aged 82. Sir Alan's return as an adviser led in 1989 to the resignation of Chancellor Nigel Lawson, with whom he had clashed over the exchange rate mechanism (ERM).
A professional economist, he had argued for Britain to keep to strict monetary targets to curb inflation. In a statement, Lady Thatcher described him as "radical, fearless" and the "finest of friends". A spokesman for her office said he died peacefully at home on Saturday. Sir Alan's career included two spells as economic adviser to the World Bank, in the 1970s and 1980s, as well as advising various governments. He was one of the first British economists to argue that money was "of considerable importance" to economic activity and argued that the money supply should not be manipulated for political reasons. He was appointed as an economics adviser to Lady Thatcher in 1981 and did the job for three years. He advised on the 1981 Budget which controversially increased taxes in the middle of the recession but is argued to have put in place the roots for the economy's future recovery. But his return in 1989 proved short lived. Sir Alan was a known critic of the European Exchange Rate Mechanism, which Lady Thatcher was under pressure to join. In one article, Sir Alan described the European Monetary System - of which the ERM was a major part - as "half baked". The words were used to taunt the then chancellor - now Lord - Nigel Lawson by his Labour shadow Gordon Brown, who asked: "Will the chancellor tell us who is now in charge of economic policy in the government? Is it the chancellor or Professor Walters?" In another Commons exchange with then Labour leader Neil Kinnock on whether she would sack Sir Alan, Lady Thatcher remarked: "Advisers advise and ministers decide." In October 1989 Lawson met Lady Thatcher and reportedly said if she did not get rid of Walters, he would resign - she refused and he left the government. In his resignation speech, he said: "For our system of cabinet government to work effectively, the prime minister of the day must appoint ministers whom he or she trusts and then leave them to carry out the policy. "When differences of view emerge, as they are bound to do from time to time, they should be resolved privately and, whenever appropriate, collectively." Sir Alan also quit and under John Major, the new chancellor, the UK joined the ERM in October 1990. But the following month Lady Thatcher stood down as prime minister after failing to win outright victory in a leadership battle with Michael Heseltine. John Major succeeded her as prime minister. The UK crashed out of the ERM on Black Wednesday, 16 September 1992. Lady Thatcher's statement read: "Alan Walters was the best economic adviser any prime minister ever had - radical, fearless, consistent and creative. "He was a great public servant and to me personally he was the finest of friends".