Japan's Toyota to halt production 11 days in its 12 factories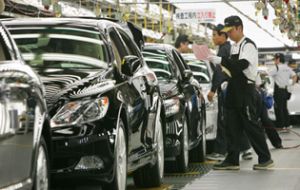 Toyota is to halt production at all 12 of its Japanese factories for 11 days in February and March as it tries to reduce its stock of unsold cars. It had already announced a three-day halt for January, but before that it had not cut production since 1993, when it did so for one day.
Toyota's sales in the US fell 37% in December, which was a worse decline than either General Motors or Ford. About 40% of the cars Toyota sells in the US are made in Japan. Despite the gloomy news, Toyota shares rose 1.3% in Tokyo on Tuesday as the Yen weakened against the dollar. The strong Yen has made Japanese cars more expensive to already cash-strapped US consumers. Toyota warned two weeks ago that it would report its first annual operating loss this year. Sales are also falling in Japan - on Monday Toyota announced that its sales in Japan had fallen 18% in December and 7.4% in the whole of 2008. Japanese vehicle sales had their worst December on record, with demand plunging 22% compared with the same month of 2007. December sales of cars trucks and buses fell to 183,549, according to the Japan Automobile Dealers Association (JADA). Vehicle sales for the whole of 2008 fell 5.1% to 5.08 million. It was the fifth consecutive year of falls, taking sales down to a 34-year low. JADA predicted last month that sales in 2009 would fall to 4.86 million.