Inquiry into Ice Patrol HMS Endurance accident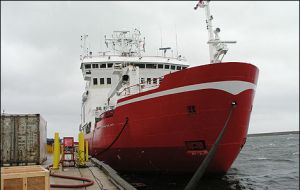 The Portsmouth press carried a piece on the odyssey of Ice patrol HMS Endurance, now resting safely in the Falkland Islands, while a team of naval and civilian personnel is completing a full survey of the damage suffered.
Under the heading "Inquiry is under way as Endurancecrew return home safely" the article also mentions a controversy regarding the extent of the repairs, which a Navy spokesperson denied would cost £ 150 million, "as has been reported". A MoD spokesman is also quoted praising the crew: 'The quick-thinking of the crew and their training stopped this serious incident escalating into something much worse". The full article follows: They faced disaster in the South Atlantic as torrents of freezing water flooded into the engine room. But now nearly all of the crew of Portsmouth ship HMS Endurancehas made it home safely. Of the 143-strong ship's company, 120 have flown back to the UK and only a skeleton crew is still with her. Top brass have already started to investigate the cause of the flood on December 16. Meanwhile the 6,000-ton vessel has been towed to the safety of the Falkland Islands. She arrived there on Saturday from the port of Punta Arenas in Chile, where she had initially been towed. The Antarctic patrol ship faced the threat of sinking when her engine room flooded, leaving her stranded without power in the icy waters of the Strait of Magellan in the far south of Chile. But crew members carried out rapid flood-control duties they had learned at HMS Excellent on Whale Island in Portsmouth. A MoD spokesman said: 'The quick-thinking of the crew and their training stopped this serious incident escalating into something much worse.' Meanwhile, the Navy has moved to calm fears that the cost of repairing the damage could run into millions. It had been reported that engineers thought the damage would cost as much as £150 million. But a navy spokesman said: 'No final decision has been made about the repair work for Endurance so we don't know where that figure would come from. 'A survey team of naval and civilian personnel assessed the damage to HMS Endurancein Punta Arenas, and that has now been completed. 'The water has been pumped out of the engine compartment, and the ship has arrived in the Falklands where we will be better-placed to make a decision about any repair work. 'An investigation is under way to establish the cause of the incident, but the time span for that is open-ended because we haven't conducted the full survey yet".