Monaco's Prince begins month long visit to Antarctica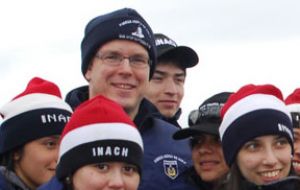 Monaco's Prince Albert II spent the first two days of his month-long global warming awareness expedition to Antarctica visiting different country bases in King George Island. On Wednesday he's scheduled to fly over the area and return to Punta Arenas in the extreme south of Chile.
In the first leg of his trip Prince Albert flew on a chartered DAP aircraft to Chile's President Eduardo Frei base where he spent the first two nights. He was accompanied by a group of Chilean students on scholarships from the Chilean Antarctic Institute based in Punta Arenas. Before returning to the South Pole where he's scheduled to arrive on January 14, the Prince will be visiting the Torres del Paine national park where he will be able to see fossils of giant sea reptiles that inhabited the area millions of years ago. His South Pole itinerary includes visits to scientific outposts and meetings with climate change experts from 18 countries. The stations to be visited among others are the US research bases at Patriot Hill and Amundsen-Scott, the French-Italian base Concordia, Russia's Vostok and Novolazarevskaya, Australia's Davis station, the Belgian base Princess Elisabeth and Norway's Troll. Prince Albert's trip follows a similar journey to the North Pole in 2006. After acceding to the throne in 2005, the Prince made global warming and climate change awareness one of the main goals for his principality. Several recent studies have suggested that Antarctica, which stores some 70 percent of the world's fresh water and until now seemed largely to have escaped the effects of global warming, is melting. "This is one of the most sensitive regions in the world" Albert was quoted by his Palace's press office, adding: "Everything happening at the South Pole, like the North Pole, has repercussions everywhere on the planet". Monaco last May became the 47th state signatory of the Antarctica Treaty which regulates human activities on the continent.