US unemployment 7.2%; 08 job losses highest since 1945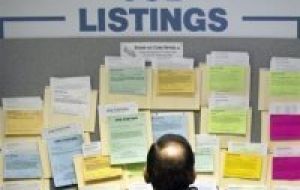 More US workers lost jobs last year than in any year since World War II, with employers axing 2.6 million posts and 524,000 in December alone. The US jobless rate rose to 7.2% in December, the highest in 16 years according to the US Labor Department release.
All together, 2.6 million jobs were lost in 2008 -- 75% of them in the last four months -- and 11.1 million workers are now unemployed, said the US Labor Department, and that's not counting millions more who have reluctantly taken part-time work instead of full-time jobs or have become so discouraged they stopped looking for a new job. Companies are cutting jobs as consumers reduce spending, amid fears the world's biggest economy will be in recession for a long time. US President-elect Barack Obama said that the situation is dire and action is urgently needed to help the economy. "Clearly the situation is dire. It is deteriorating and it demands urgent and immediate action," he told a news conference. He added that he was making good progress on in talks with Congress on a new stimulus package - estimated to cost 800 billion US dollars. Shares fell on the news of the job losses, with the Dow Jones Industrial Average down 124.8 points at 8617.66 points and the S&P 500 down 16.5 at 893.25. Oil prices slipped more than a dollar a barrel to below 41 USD a barrel. The rise in unemployment raised fears of slackening demand for oil. November's job losses were revised to 584,000 from 533,000 while October's losses were revised to 423,000 from 320,000. More than half of the job losses last year were in the last four months of the year. Analysts had forecast that 550,000 jobs would go in December. Most December job losses were in the service sector, which shed 273,000 jobs. Manufacturing jobs fell by 149,000 in December, while employment in construction fell by 101,000, with retailers cutting staff by 67,000. Some of those lucky enough not to lose their jobs, had their hours reduced. The number of aggregate hours worked in December fell 0.2 hours to 33.3 hours, the lowest level since records began in 1964. The number of people who worked part time - because their hours had been cut back or because they were unable to get full-time work - increased by 3.4 million to 8 million in the last 12 months. AT&T, the telecoms giant, was among those to announce job cuts last month, reducing its workforce by 4% and cutting 12,000 positions.