Falklands' war trophy auctioned for ten times its value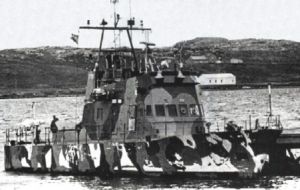 A Falklands Islands war trophy has been sold at auction for around ten times its estimated value, reports mediawales.co.uk. The oak nameplate carrying the name Islas Malvinas from an Argentine patrol vessel went under the hammer for £ 5.040 at an auction of military memorabilia by auctioneers Bonhams.

Robin Lucas, specialist in charge of the sale of militaria for the auctioneers, said the anonymous buyer had smashed the reserve estimate of £500 to £700 after a bidding war. "There was a lot of interest but in the end, it came down to a battle between two prospective buyers". The nameplate also had an emotional side for Wales since it involves a little-known story from the history of the last ever Royal Navy vessel to bear Cardiff's name. The oak nameplate was once carried by a small, camouflage-painted Z-28 patrol boat used by the Argentine Navy during the Falklands War, which was boarded by the British destroyer's crew in June 1982. According to the report from David James, the camouflaged boat had been a thorn in the side of the British forces since the start of the conflict. She was used for late-night supply runs to forces on the outer islands and had made several trips under the cover of darkness back to the mainland. The wooden nameplate was taken as a souvenir when the crew of HMS Cardiff boarded her on June 14, 1982, and renamed their prize HMS Tiger Bay, after the Cardiff docklands, a name she still has today in Portsmouth Harbour where she is moored. Mr Lucas said the vessel's original nameplate was given to Colonel Ian Baxter, a senior Royal Marine commanding officer who was at the formal surrender of Argentine forces in Port Stanley. He brought it home as a souvenir of the war and kept it until deciding to sell it at auction by Bonhams in Oxford, where it carried the simple title Military Trophy, 1982, in the auction's catalogue. Part of the sale was a handwritten statement by the Colonel, later a Major General, authenticating the nameplate. In the note, he wrote: "As the acting Chief of Staff HQ Command Forces, I was present at the surrender on 14 June of the Argentine Forces occupying the Falklands Islands. "The following day the harbour master presented me with one of the two name boards he had removed from the patrol boat." HMS Cardiff was decommissioned in June 2005 and has since sailed to Turkey to be scrapped. She was replaced by HMS Dragon, a type 45 destroyer, concludes mediawales.co.uk.