Aerolineas takeover shadows Cristina K visit to Spain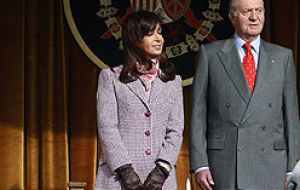 Argentine President Cristina Fernandez de Kirchner began on Monday her first official visit to Spain amid expectations that she would try to reduce tension over the expropriation of the airline Aerolineas Argentinas from the Spanish tourism group Marsans.
King Juan Carlos welcomed Mrs. Kirchner and her numerous delegation, who then received the keys to Madrid from Mayor Alberto Ruiz-Gallardon. She was later scheduled to meet Prime Minister Jose Luis Rodriguez Zapatero and to give a speech to parliament during her two- day visit. In an interview with Spanish television channel TVE, Mrs. Kirchner said the re-nationalization of Aerolineas Argentinas will proceed according to laws set out in the country's expropriation regulations. However she avoided a question on whether during her current official visit she was negotiating a final agreement with Marsans. In Buenos Aires Government House press office made it a point to underscore that Aerolineas Argentinas was not in the agenda with Spanish authorities. "Argentina was obliged to nationalize Aerolineas in order to secure control over a strategic company which had not been functioning well" explained the Argentine president. Argentina's Congress last year voted to renationalize Aerolineas Argentinas, which was controlled by Marsans. The Spanish travel company, in turn, filed a multimillion dollar claim against Argentina. Spanish media said Argentina and Marsans were trying to negotiate a deal allowing Argentina to take over part of a contract signed by Marsans to buy Airbus planes for Aerolineas. The contract signed by Marsans is for the purchase of 70 Airbus aircraft from European Aeronautic Defence & Space Co. Spanish companies have been annoyed by Argentine policies of trying to gain greater control over the economy in the country where Spain is the biggest foreign investor, reports said. If Argentina were to take over part of the contract, in exchange, Marsans would drop claims against Argentina for the losses it has sustained, claim reports both in Madrid and Buenos Aires. Mrs Kirchner insisted the price Marsans would receive in compensation for Aerolineas is to be decided by Argentine courts. During the interview the Argentine president also argued that the election of Barack Obama as US president showed that "the world has changed," Fernandez said at the city hall, explaining that categories of political left and right were maybe no longer valid. The dangers of the new era included "xenophobia" and "closed nationalisms," she said. Mrs. Kirchner's delegation includes several ministers, provincial governors, union and industry leaders.