Dr. Martin Collins named South Georgia Director of Fisheries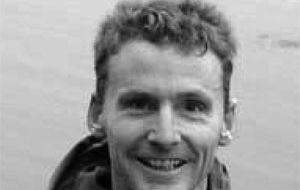 The Government of South Georgia announced Monday that Dr Martin Collins has been appointed as the new Senior Executive Officer and Director of Fisheries in succession to Harriet Hall. Dr Collins will take up his appointment in May.
Martin graduated in Zoology at Reading University in 1989 and in early 1990 took up a position as a Fishery Observer in the Falkland Islands. After a year in the Falklands and a bit of time out to sail across the Atlantic he did a PhD on squid ecology at University College, Cork. Subsequent research work focussed on cephalopod ecology and deep-sea fish behaviour and ecology. He joined BAS as a marine ecologist in June 2002 to work on the Scotia Sea ecosystem. This position has led him to visit South Georgia on many occasions and has also led to his involvement in South Georgia fisheries as a member of the UK delegation to the Scientific Committee of Commission on the Conservation of Antarctic Marine Living Resources (CCAMLR).