Argentine remains to be buried in Falkland Islands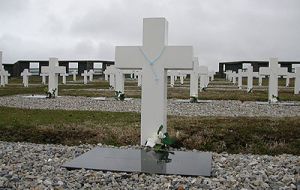 Full military honours will given to the burial of Argentine remains in the Falklands on Saturday.
The remains of 1st Lt. Jorge Casco will be buried at the Darwin Cemetery on Saturday March 7. His remains were discovered by the UK military on South Jason Island to the far North West of the Falklands.
At the Argentine Government's request, the remains were returned to Argentina for DNA testing. Following confirmation that they belonged to 1st Lt. Casco, his family requested that his remains be buried at Darwin. Partial remains of 1st Lt. Casco were buried in the cemetery after they were discovered in 1982.
A spokesperson from Government House in Stanley, Mr Paul Martinez, said, "In line with previous protocol and in accordance with the Geneva Convention, the UK Military will provide full military honours during the burial which will include a firing party on the ground. 1st Lt. Casco's widow and close family members will attend the ceremony, accompanied by an interpreter. They will travel to and from the Islands on a private civil aircraft."
By Lisa Johnson - SeAledPR - Stanley