Brazil Argentina trade clash; dispute could reach WTO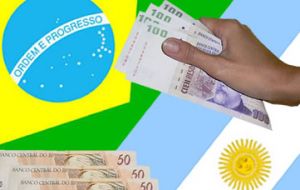 Brazil's Foreign Trade Secretary Welber Barral admitted publicly that Brasilia is considering taking its trade dispute claims with Argentina to the World Trade Organization. Insistent leaks to the press from "reliable sources" anticipated for days the growing trade rift between Mercosur two main partners.
"Brazil can begin actions against any country before the WTO", said Barral talking to the press in Brasilia. He added his office which depends from the Ministry of Development, Industry and Trade was working to appeal, before WTO, the trade barriers imposed by Argentina in the wake of the global slowdown, to all imports, including those from Brazil.
Furthermore he warned Brazil could appeal to its own protectionist measures such as limiting access of Argentine powder milk and wheat flour.
However form Argentina Foreign Economic Relations Secretary Alfredo Chairadia replied that "all countries are entitled to begin actions before the WTO if it considers its case sufficiently solid, but we believe that all we are doing is legitimate. Non automatic (import) licences and "criteria values" (minimum prices for imports) are legitimate and transparent, and furthermore they only affect 5% of Brazilian exports to Argentina".
Brazilian industrialists argue that the special measures apply to 10% of shipments to Argentina.
Last month Argentina and Brazil had agreed to tone down exchanges and freeze the situation until a Deputy ministerial meeting that was scheduled for this week in Buenos Aires. However the Brazilian side requested another week and in the meantime Argentina imposed antidumping measures on Brazilian manufactured cutlery, particularly knives.
Chiaradia quoted in the Buenos Aires press said that the 40% drop in bilateral trade so far this year can't be attributed to a specific circumstance, but rather "to the problem of a falling (Argentine) demand".
Nevertheless Argentine importers and trade officials admitted that the issuing of import licences (which according to WTO should be released at the most in 60 days) had been delayed, "but the new Trade Policy Deputy Secretary Eduadro Bianchi was updating the process".
Brazil is Argentina's main trade partner and Argentina for Brazil figures behind United States and China.