Falkland Islands: Weekly Penguin News Update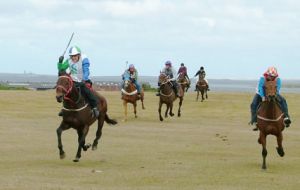 Headlines: East and West Falkland host Sports Weeks; Endurance high and dry; Global ill wind brings some benefit for Standard Chartered Bank; Extreme bikers tour the West in less than a day... off road; Extended visit for James Clark Ross.
East and West Falkland host Sports Weeks
At North Arm on East Falkland, Tim Bonner riding his Falkland Island bred stallion Zafonic secured the Governor's Cup ahead of Maurice Davis' Dashing Dancer ridden by Arthur Turner. This is the second win for Zafonic at North Arm and his fourth in all, having won twice in Stanley.
At the Hill Cove Sports on West Falkland, Robert Ferguson (22) emerged as Champion Shearer.
Fun family events from Treasure Hunt to peat cutting competitions, Gold Cup horse racing and action packed football and rounders filled the programme.
Sports week is the Faklands traditional way of marking the end of the shearing and seasonal farm work.
Racing report from Patrick Watts and a look at other events at North Arm with Neville Hayward next week, plus full coverage from the West with Andrew Newman
Endurance high and dry
Looking tiny and somewhat vulnerable perched atop the massive, heavy lift vessel Target, the ice patrol and research ship HMS Endurance is undergoing the final preparations for the month long voyage back to the UK.
The loading got underway a week ago; however the final securing has taken longer than expected said a military spokesman.
While a date for departure has not been pinpointed, the spokesman said it was hoped the Target would be back in the UK, weather permitting, in early April.
Meanwhile, Stanley engineer Mike McKay is hard at work making some 2,000 metal wedges to exact specifications to complete the securing of the Endurance.
Global ill wind brings some benefit for Standard Chartered Bank
In 2008, a year which saw the crash of banking giants in Britain, USA and other countries, Standard Chartered Bank has reported pre-tax profit up by 19 per cent on the previous year.
Protected from some of the year's financial turmoil by its focus on Asia, where markets have so far proved more resilient to the credit crisis than those of the West, Standard Chartered Bank reports that it has been regarded as a "flight to quality institution" and has seen customer deposits rise by 31 per cent during 2008, most of it coming in the last quarter, as confidence in other financial institutions declined.
Standard Chartered's Chief Executive, Peter Sands, was reported by BBC News as saying that although Asian banks were beginning to feel the stress, they were on the whole in much better shape than many of their counterparts in the West.
Extreme bikers tour the West in less than a day... off road
FIVE hardy bikers completed their challenge, bruised, slightly battered but by no means broken, having reached the furthest and highest points of West Falkland in less than 24 hours, all off road.
Old hands, Andrew Alazia, Dereck Jaffray and Wayne Clasen, who undertook a similar challenge on East Falkland almost ten years ago, were this time accompanied by Keith Knight and Jay Moffatt.
The group left Hill Cove at midnight on Monday and returned to a heroes' welcome some 23 hours and 55 minutes later.
The bikers had covered a total of 338 miles, as recorded on Andrew's GPS and everyone was fit and well apart from the expected aches and pains such a gruelling expedition would produce.
All the riders had taken a tumble at some point, with tracks having become overgrown over the years through lack of use and approximately nine hours of riding taking place in the dark.
A lack of lights for West Falkland rider Keith Knight proved to be an extra handicap and the descent from Mount Adam, the highest point, was made with assistance from his fellow riders.
The challenge was a fundraiser for the Cancer Support and Awareness Trust and the amount raised, along with the winners of the guess the distance and time competition will be announced next week when the riders and their support team return to Stanley.
Extended visit for James Clark Ross
THE British Antarctic Survey Ship RRS James Clark Ross has had an extended visit to the Falklands as a result of a cost reduction exercise.
The James Clark Ross arrived in Stanley on February 25 and is due to depart on April 1, according to a spokeswoman for the British Antarctic Survey (BAS).
The longer than usual visit is a pause in operations as a cost reduction exercise, while BAS is in transition to its new science programme, Polar Science for Planet Earth, which starts on April 1.
Penguin News online: Penguin News