Gibraltar: Spain praises Princess Anne "low profile" visit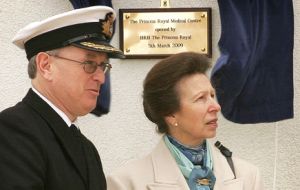 A leading Spanish Senator welcomed Gibraltar's Chief Minister's decision not to greet the Princess Royal at the runway when she arrived on an official visit to the Rock
PSOE Senator José Carracao who is the ruling party PSOE parliamentary spokesman on foreign affairs, told reporters in Spain that Peter Caruana had adopted "an intelligent position" in this respect.
He said it reflected "sensitivity" to the unease that the Princess Royal visit had generated in Spain and that the Chief Minister's absence on the tarmac gave the visit a lower profile.
Last week Senator Carracao had suggested that a high profile visit could derail the trilateral talks.
However Carracao said Spain would have been happier if the British Government had cancelled an official engagement to formally open the Princess Royal Medical Centre in devil's Tower Camp.
The centre is located on the isthmus, which Spain says was not granted to England under the Treaty of Utrecht.
Senator Carracao said that Spain would have valued a decision to cancel that ceremony "very positively".
Princess Anne and her husband, Vice Admiral Timothy Laurence were greeted at the foot of the aircraft steps by Gibraltar Governor Sir Robert Fulton and Lady Fulton.
The greeting party was made up entirely of UK representatives.
Following the national anthem the Princess Royal was introduced to the Commander British Forces, Commodore Adrian Bell, and Station Commander RAF Gibraltar, Wing Commander Simon Dowling.
After the inspection the Royal party moved off to The Convent in a convoy of vehicles, with the Princess Royal riding alongside the Governor in the rear of his official car.
On Wednesday night the Princess Royal attended a reception at The Convent, to which the Chief Minister and other dignitaries were invited.